Many pro surfers are practicing Yoga between two surf sessions, those two discipline are more and more connected and complementary. Yoga, Fitness or Paddle, "soft" sports have the place of honor in women's magazines, many stars are getting down to it and women surfers are too. The fashion world is also seizing the trend with multiplying sports collections, for exemple Roxy Outdoor Fitness or Billabong Actice for surfwear, but also H&M or Mango. So why such an enthusiasm ?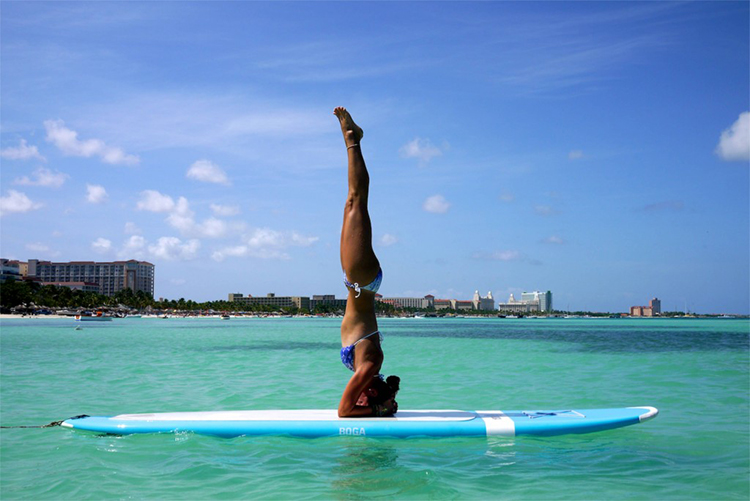 What are Yoga's benefits ?
Yoga is an activity that works both on the body and the mind. Mostly known for the postures, the asanas, there are actually several kind of Yoga. The Ashtanga is the most classical form with series of postures and breathing exercises, the Vinyasa is the most dynamic and is kind of like dancing, the Bikram is a series of 26 postures in a room heated up to 40°C to make you sweat. There are also the Iyengar, the Nidra, the Power, the Kundalini or the Hatha which embraces all types of Yoga, so you have an abundance of choices.
Benefits for the body are numerous : Strengthen, stretch your muscles, increase flexibility, relax, get your body tonic, get prepared for effort and risks of injury. Yoga also teaches you how to breathe depending on your movements and to be fully aware of your body. At a psychological level it helps to evacuate stress, to fight tiredness by improving your sleep and finding a certain serenity. For surfing Yoga practice makes you in better shape in general but also improves your reflexes, your balance and your tonicity, you get more flexible and have a better control of your breathing. Finally Yoga brings you wellness therefore a good life quality.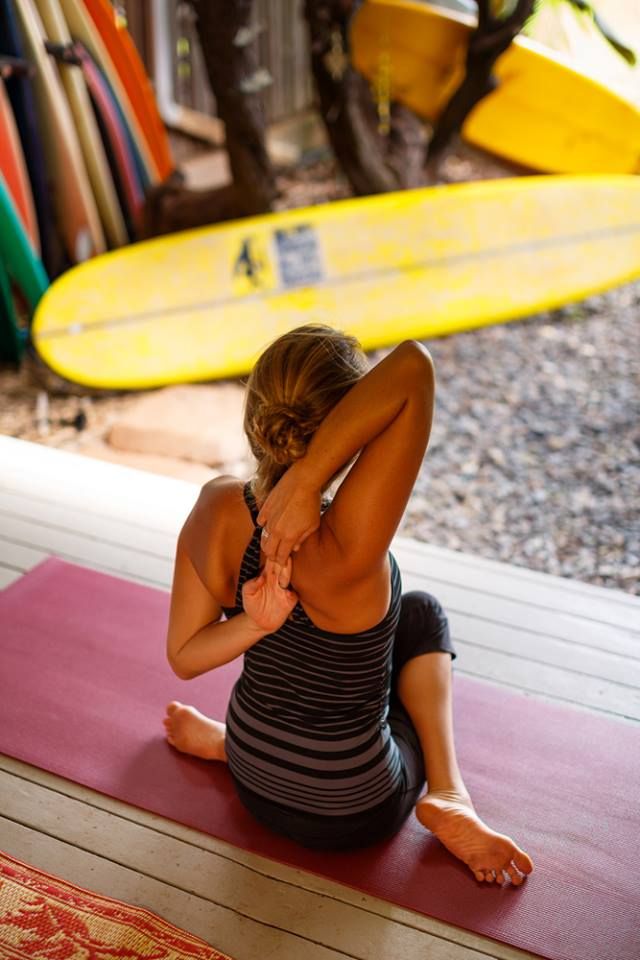 Where and how to practice ?
To start the best is probably to attend Yoga classes, the coach will then be able to adapt exercises to your level and to correct you. Moreover classes help to stay motivated and make you practice regularly, which will make you improve fast and good. Video classes on the internet can be an interesting alternative, often cheaper, but not really recommanded for beginners, it would be better to learn the basics with a pro before you go into exercises on your own, so you don't get bad habits. After a few classes you would probably be able to practice on your own and almost everywhere! You can practice yoga in a gym club or at home but the best is still to practice outside, it is better for your breathing and a lot funnier, anti-stress guarantee ! Before or after surf a yoga session allow you to stretch your muscles and to chill out. Many postures and exercices can help you soothe your back and your neck, often mistreated during the session.
To conclude surfers are practicing Yoga because it gently does good to their body and mind and help to stay in shape and to be happy. Whether you surf or not, Yoga looks pretty awesome on the paper, but the best is still to try it out !
Here is a beautiful video from Patagonia which will make you want to try !
Photo : rachelbrathen.com et patagonia.com [:]