The famous "Salty Hair, don't Care" makes you look like a cool surfer on Instagram but in real life it is very bad for your hair! It is true that after surf salty hair are beautiful, but after a few hours your hair gets super dry, not soft at all and full of knots, not really the mermaid hair you wanted! I met Gaëlle, a hairdresser who just got back from 10 years in California and who is a natural hair treatment and eco-friendly products advocate, after saving my damaged hair with her magic scissors, she answered a few questions to help me take care of my hair mistreated by surfing and sport, I am sharing her precious advices here with you ;)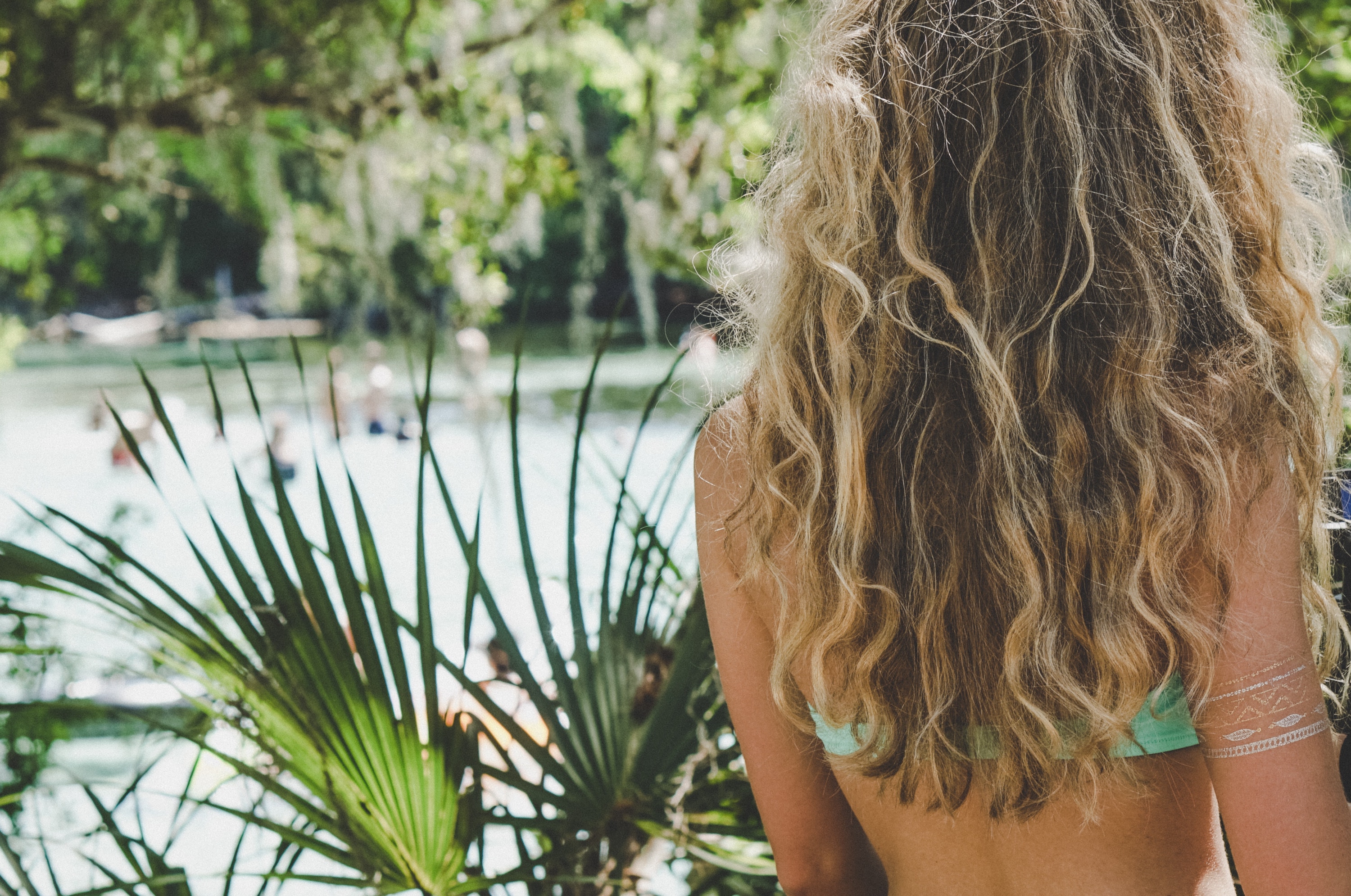 1/ When you surf a lot your hair is put to a severe treatment between salt water, sun, knots and neoprene rubbing. What do you recommend to avoid damaging our hair and protect it when going surfing?
To protect my hair from the salt water and sun combo, I start by spraying clear water on it, then I apply a vegan, paraben free and non-toxic for the ocean cream from the roots to the ends, Adama or Johns. The cream will also screen salt by wrapping the hair with a protective film.
If I'm in a tropical place with coconut trees, I use fresh coconut milk all over my hair. Most of the time I let my hair loose, but since it got longer I braid it, always with a soft rubber band to avoid breaking my fragile ends (I often loose it during the session though…).
2/ Even when being careful, our hair eventually end up damaged anyway, what are the good moves and hair treatment we can do to nourish and repair our hair?
My secret is coconut oil (organic), I use it for everything (hair, skin, intimate care and even cooking). I have a hair care routine, once a week, before going to bed, I warm up the coconut oil in my hands, mixed with a few drops of lavender or rosemary essential oil, and apply it on my roots, then coconut oil alone on the lenghts. I rub my scalp to make it penetrate, lavender is both calming and relaxing, and rosemary activate the blood flow, which will nourish your hair bulb and help it grow. I cover my pillow with a towel and leave it all night. The next day I wash my hair twice with a soft shampoo, then a conditioner. My hair find its brilliance, softness and movement again, especially for curly hair.
3/ Having long mermaid hair is dreamy, but in real life it is pretty hard to take care of it and it always get tangled, especially when you surf or practice any sport, do you have any easy tips for long hair to avoid ending up with our head full of knots and seaweed after a session or after sport?
I systematically rinse thoroughly my hair with mineral water after each session to eliminate salt or sweat. Then I apply a second dose of the same cream I used before the surf and I de-tangle my hair with a Wet brush, perfect to brush hair without breaking it. Then I wring it softly with a towel and let it dry naturally.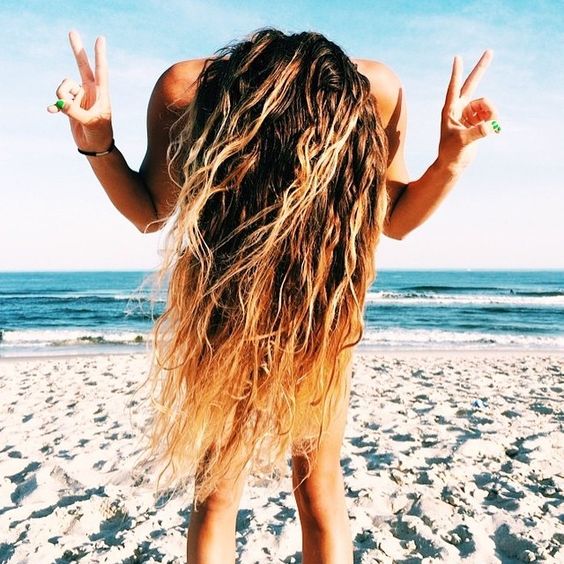 4/ The famous wavy californian blond is a dream for many girls but not always easy to get (except if you spend the whole year surfing under the sun). For true brunettes like me I guess we'd better forget about it, but what would you recommend to women with blond or chestnut brown hair who are dreaming of having beautiful natural golden hair?
As a hairdresser and natural hair enthusiast, I encourage natural highlighting that doesn't start from the roots for a natural sun/ocean effect, which, when your hair grows, won't get ugly and leave you with a dividing line. I use a painter brush to apply the dying product to create a soft and lice lighting, you won't guess it isn't natural, on the contrary it looks like the sun and the ocean made you hair lighter :) This gentle method goes well for blonds and brunettes, the only difference is that the brunette will have a caramel effect that will turn golden, when the blond will have golden hair turning baby blond with time.
5/ More and more brands are now making salt water spray to help you get the surfer hair look even when you don't surf, according to you what is the best way to get that salty hair style when you live away from the ocean?
My favorite product, a creamy texturizing ointment from the UK, it's called Soufflé de Label M. it is not organic but won't make your hair dry and will give you the much desired salty look. You can use it on every type of hair, wet or dry. It is truly magical, it's definitely part of my essentials! This product inspired me to develop my own hair products range for surfers and outdoor enthusiasts! I am currently creating a kit made of two products, as natural as possible, for a natural style with a beachy vibe and doing no harm to the hair. You no longer need a hair straightener or any other torture tool… Another product I particularly like is the Not Your Mother's sea salt spray… but use it in moderation because it may dry your hair out a little more than the Label M ointment.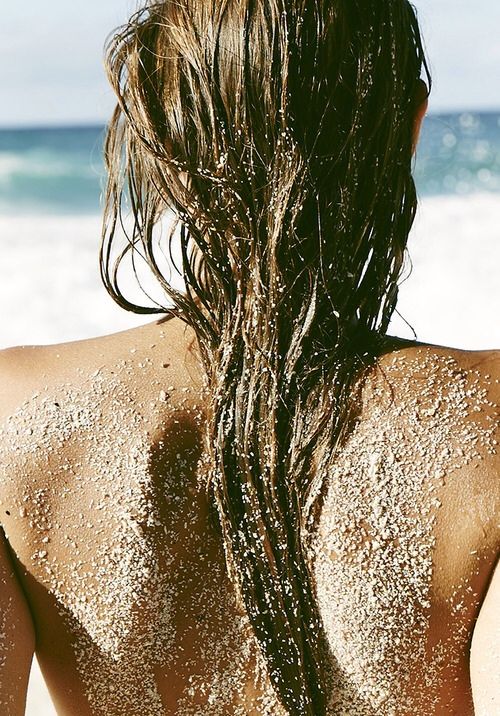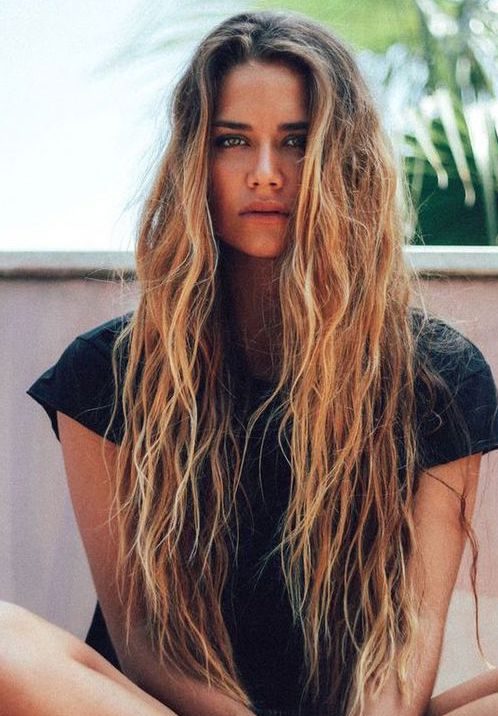 6/ Hair products can be really expensive and are not always good for the environment, sometimes even really bad for the oceans, do you know eco-friendly and affordable brands we can use, or recipes to make our own hair care products? 
I am always looking for efficient hair products that will do no harm to the oceans. In California, organic and vegan hair treatments are really affordable and easy to find, I used Acure Organics for its shampoo and conditioners, 100% vegan, paraben free, sulfate free, phthalate free, mineral oil free, petrolatum free, silicone free and cruelty free. And the brand JĀSÖN, shampoo and treatment made with Aloe Vera (perfect after surfing) and the one with lavender for its calming effect.
For no rinsing treatments, I used the citrus and neroli hair detangler from John Masters Organics, and the Adama hair cream. The only inconvenience with this last one that I love is that it is very rich in oil, and it got me pimples on my back (I had to make sure to cover my back when using it). Back in France, I started looking for european products, and I found the brand Urtekram, the coconut conditioner spray and the Aloe Vera one won my trust.
The brand Cattier and its repairing mask are also in my favorites
When I have time, I love making my own natural products, here are my favorites for dry and fragile hair (thin or thick) :
– Almonds milk (homemade), sweet almond oil, honey and avocado. Works perfectly on the face as well.
– Plain yogurt and one spoon of Aloe Vera gel. Hair and face.
– Eggs, castor oil plant, honey and banana.
For those 3 recipes, leave it for about an hour on your hair. For a maximum effect, roll your hair in cellophane after application.
I trust specialized bloggers to discover new organic hair care products, I test everything that get my interest ;)
A huge thank you to Gaelle for all her precious advices and her kindness. Go follow her on Instagram @ube_by_gaelle for daily tips and hair inspiration, and feel free to contact her to book an appointment if you are in the Landes or Basque Country, she does at home hair cut and is working at the Vestibule in Hossegor for the season ;)
> Gaelle's email : hello@ube.la