To write Surf Madame's first article about Seea was an evidence. Created by Amanda Chinchelli, a talented Italian designer, the brand really understands expectations of women who surf with its swimsuits and wetsuits at once beautiful and comfortable. "A celebration of the style, rhythm, and grace of women's surfing." as its founder said.
Based in San Clemente, California, Seea was born in 2011 and was immediately a success thanks to designs now famous like the Hermosa or the Swami's. Today, Seea's products are sold beyond american borders and I couldn't be happier to see them all over the world !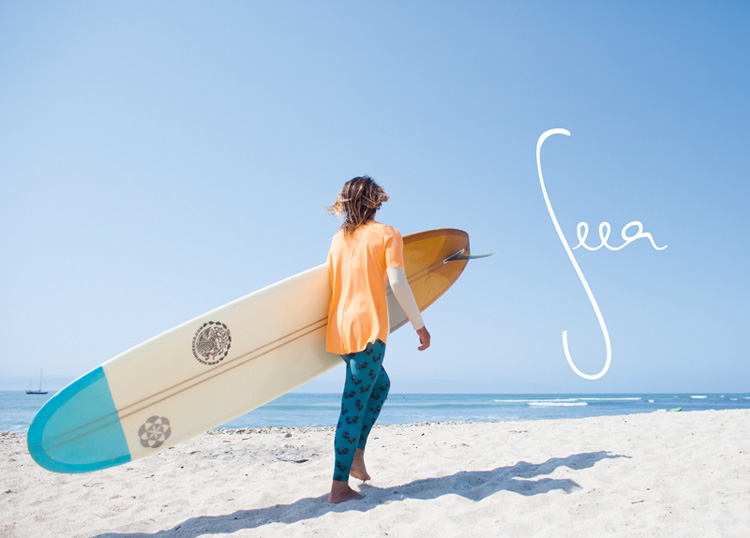 The 2014's collection, true to the brand's goals, combine style and function : Retro and colorful designs with pin-up looks and Italian luxury nylon with UPF rating 30+ to 50+, all made in the USA. You will find the classic Hermosa but also bikinis, one piece swimsuits, rashguards, shorts, leggings and the Belmont Romper with its loose drapey fit for those of you who are more discreet.
But Seea isn't just surfwear, it is also a lovely group of ambassadors and surfers, the Seeababes, and a lifestyle at the pace of waves. At Seea women definitely got it all ! You never get tired of watching surfers Mele Saili, Jenayl Peters, Luki O'Keefe or Lola Mignot play on the waves of California or Mexico with grace and elegance in their beautiful outfit.
As you can well imagine, Seea's vision of feminine surfing is fully shared by Surf Madame, discover their univers and feel free to give your impressions.
This summer Seea also made a collab with Vans shoes —> Vans x Seea
For more informations and online shopping visit Seea website : www.theseea.com
Photo credit : Nick LaVecchia
"We are women… We are the graceful sliders of the Seea"

Amanda Chinchelli Greer ~ Seea Designer and Founder
[:]