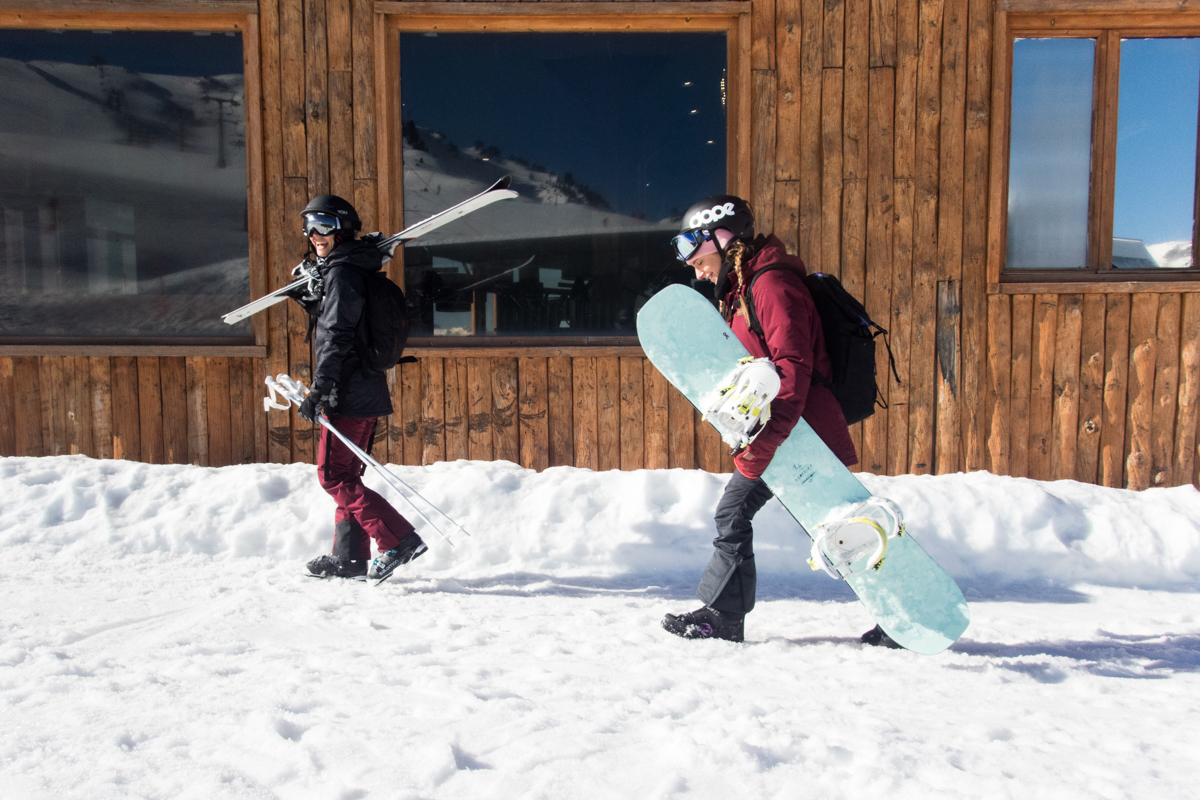 I'm freshly back from the mountains, I got my fill of sunshine, fresh air and riding! Not only did we have a crazy sunny weather but we had the snow tracks just for ourselves, so we made the most of the fresh snow and it was amazing! I was the only skier with 3 snowboarders, I've been skiing since I was a kid but being passionate by surfing of course I also tried snowboarding a few years ago, and it was a disaster! I found it very hard and tiring, my surfing skills were of no help and I kept crushing and hurting myself, not very fun. Despite my difficulties I kept trying for 2 years before deciding it wasn't for me and going back to my beloved skis with which I have so much fun. The truth is, I was attracted by snowboarding because I thought it was very cool and way more stylish, not because it was nice to ride, it was just about the image, I thought it was more bad ass, but today when I see my friends snowboarding they look like they are really enjoying it so it makes me want to try again, for the ride this time, not for the style (skiing can be stylish too, right?). Amongst my snowboarders team there was Manon (founder of the blog Allons Rider), we went riding together for a few days and it was awesome, me skiing, her snowboarding, despite very different riding material we both had a blast! So, ski or snowboard?
In most cases, when you go to the mountains as a kid, you usually start by skiing, mostly pushed by your skiers parents, it is what happened to me and to Manon as well : "I've been going to the mountains since I was little because my parents loved it. Every year we spent a week in the Alps. I've been taught how to ski when I was 6 because at that time snowboarding wasn't really common for kids and my parents were both skiers so it was easier. Then at the age of 12 I told my parents I wanted to start snowboarding, I really wanted to try and since I was already pretty reckless I learned super fast. First I took lessons, then by myself. When I grew up I took a diploma to be able to teach the kids. I think I can say that snowboarding was my first love, before surfing."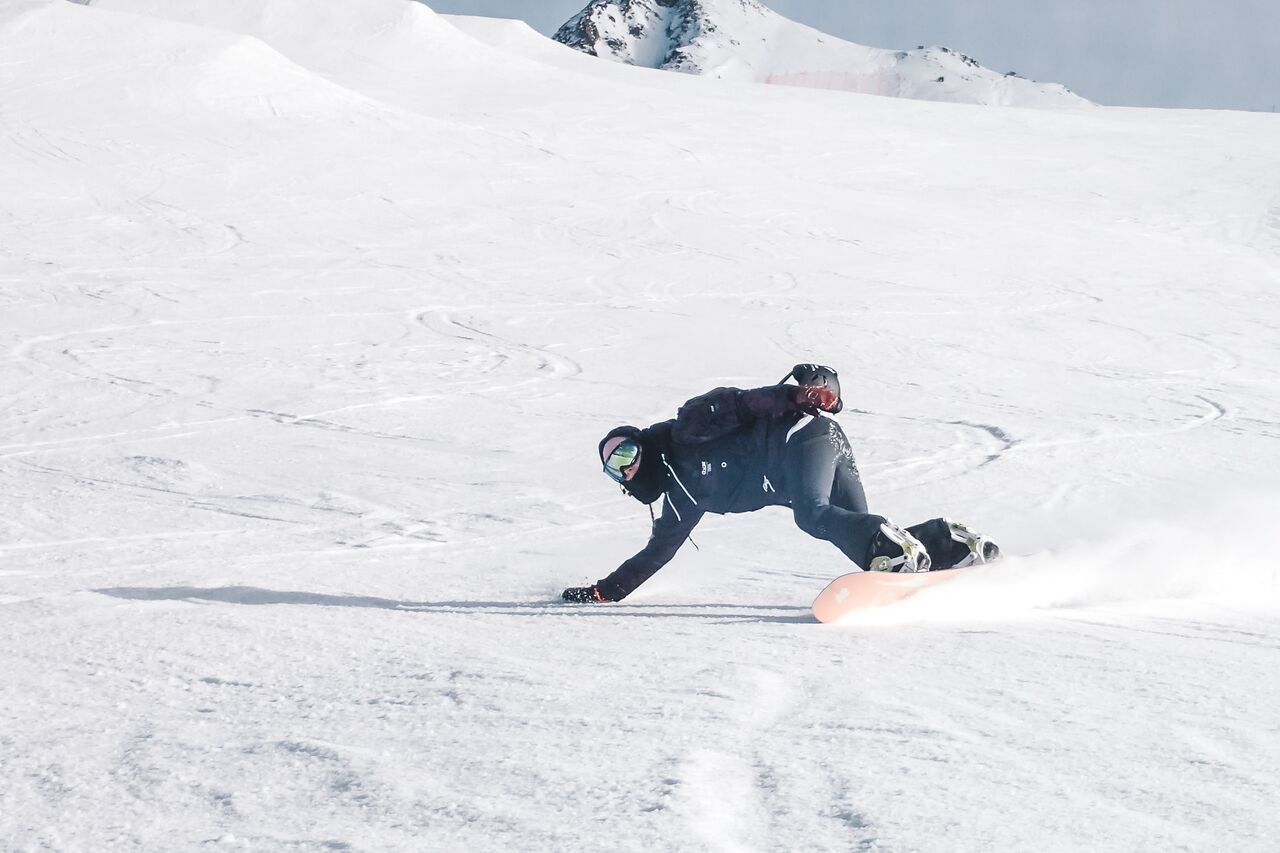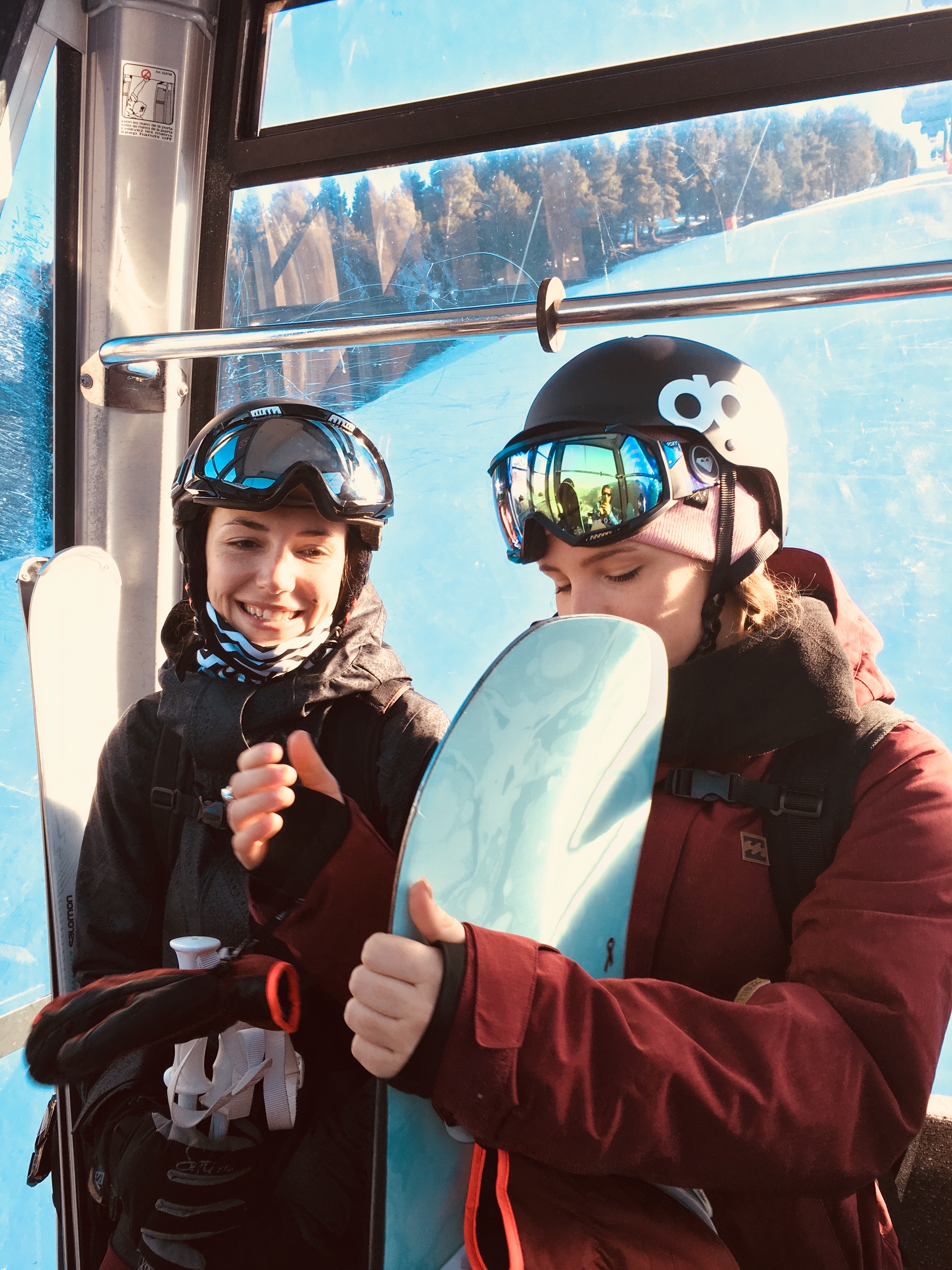 But don't think that learning skiing is easy for all that! We all have traumatic memories of our first skiing lessons, with a few uncontrolled straight on/snowplow where we got dangerously close to the edge of the mountains or the hellish moment when you fell and your ski stayed on the other side of the track and all the kids are waiting for you, not to mention the biggest fear of all skier, crossing your skis, big cropper guaranteed! Learning to snowboard is mostly very painful for you ass (and knees, and wrists), I personally remember being on the floor, eating snow most of the time, I was scared of the slope and the speed, and I had a ridiculous lack of coordination. The skiing posture is more natural and can seem less scary at the beginning, while snowboarding requires more engagement like Manon explains : "I think skiing is easier to learn because you are facing the slope and your feet are not tied up. Then when you fall, you fall on the side and it is a lot less painful for your wrists and coccyx. In snowboarding you are on the side of the slope, turns are more radical and I remember that it was what scared me the most when I started : Engaging in the slope, front edge first."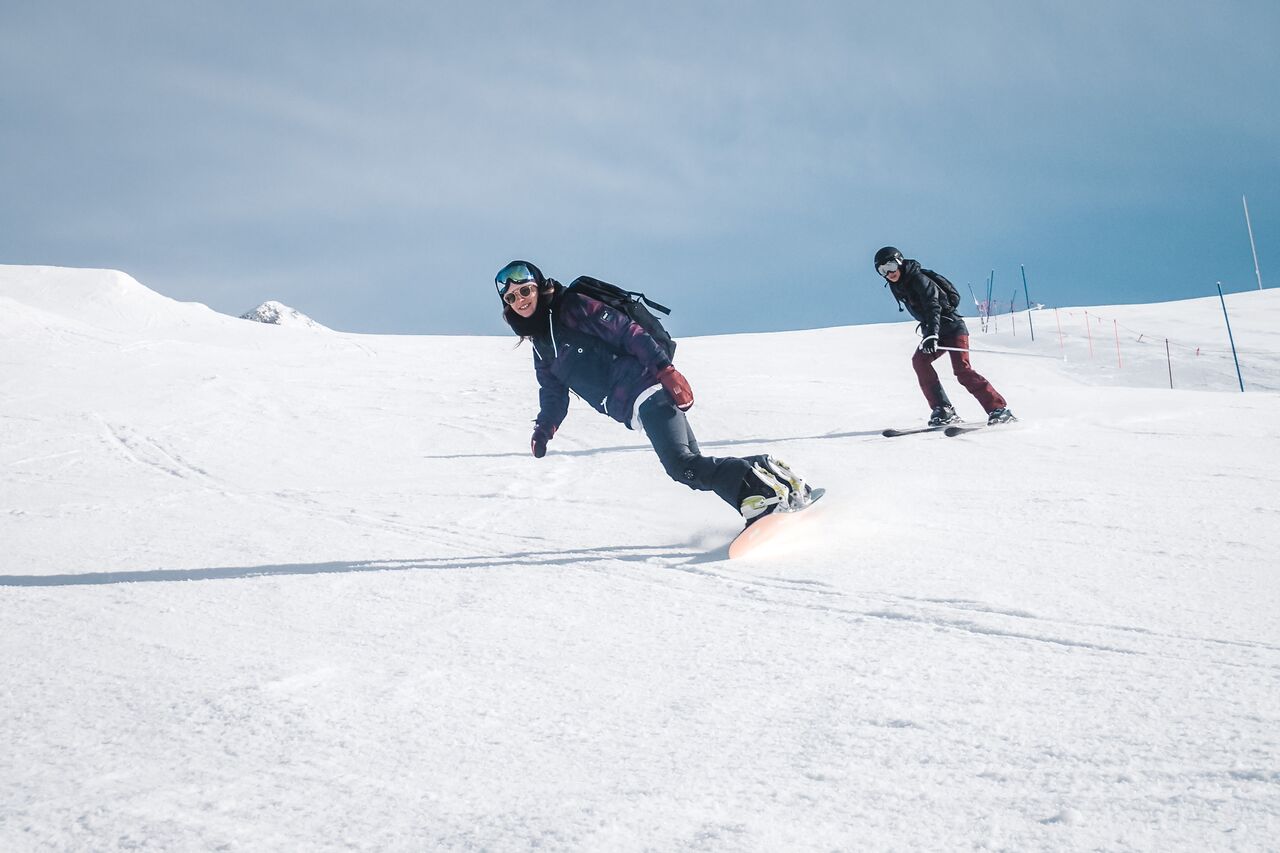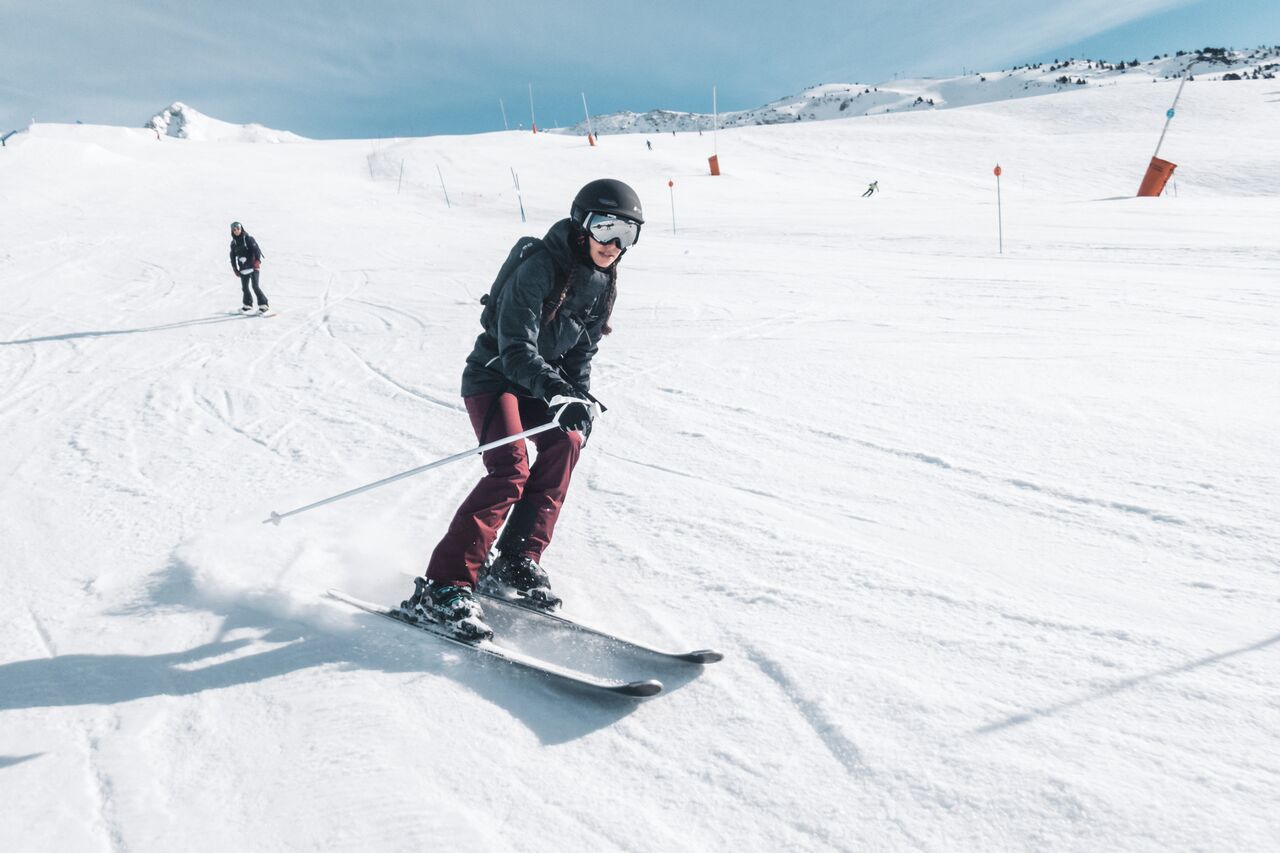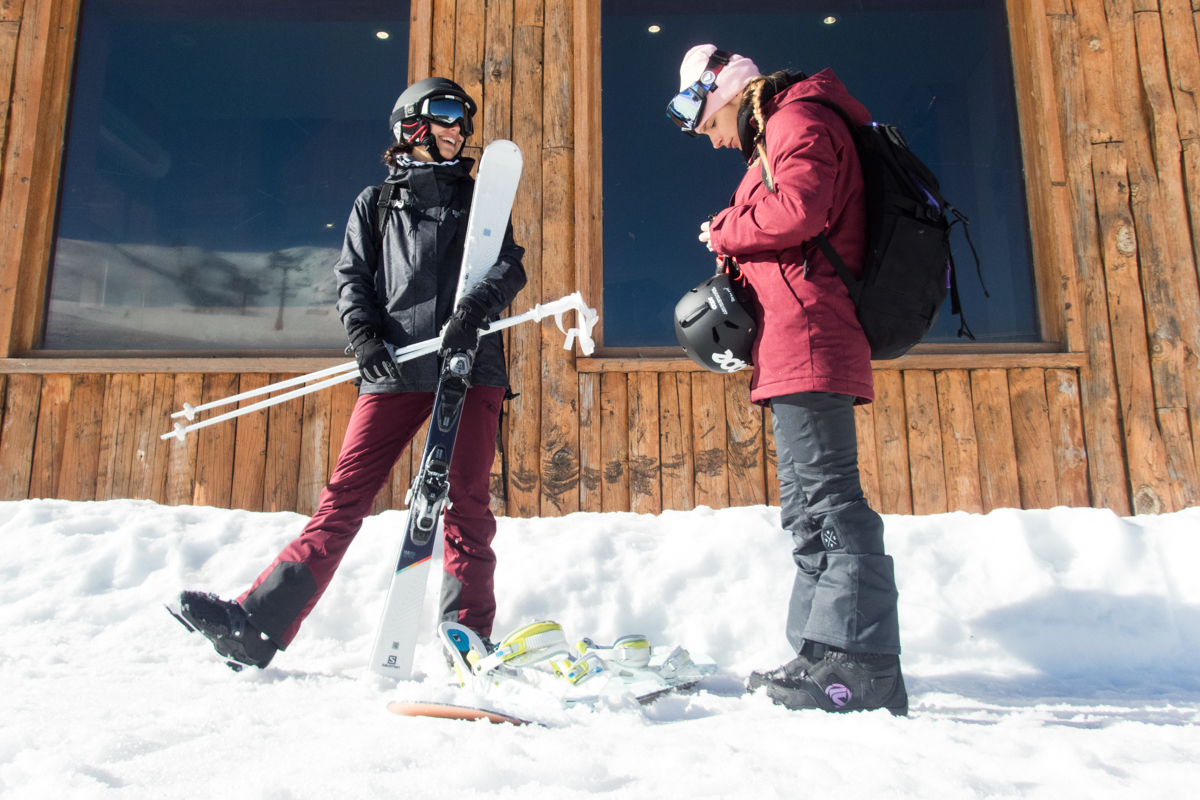 In short, learning to snowboard is not always easy, like surfing, you have to be committed and to persevere (and go to the mountains a lot)! So it is legit to ask yourself why going through all this, is it really worth it? If you have a decent level in skiing it is guaranteed fun, speed, sensations, you can go everywhere and you're sure to enjoy it, so what about snowboarding, is it really as good, maybe even better? According to Manon, it seems pretty cool : "I think what I love the most in snowboarding is the riding feeling I have. You feel so free. I was lucky enough to start pretty young so I don't really remember struggling or having a hard time. I have only good memories of riding (except when I broke my wrist, then my thumb, then my foot…)! And now that I also surf, I realized there were some manœuvres that are similar in snowboarding. Like leg weight for bottom turns for example. I also found that we make progress pretty fast, not like in surfing hihi. You can see progress after only a few days and it is very rewarding!" Also, I'm coming back to it, there is the style aspect of it, that's what attracted me first in snowboarding, and I think I'm not the only one, Manon recognizes it too : "Talking about style… it is clearly easier to have a good style when snowboarding than when skiing and I am really admiring good skiers for that!" 
Conclusion : snowboarding is hard but stylish, skiing is easier but you have to be good at it to have a great style!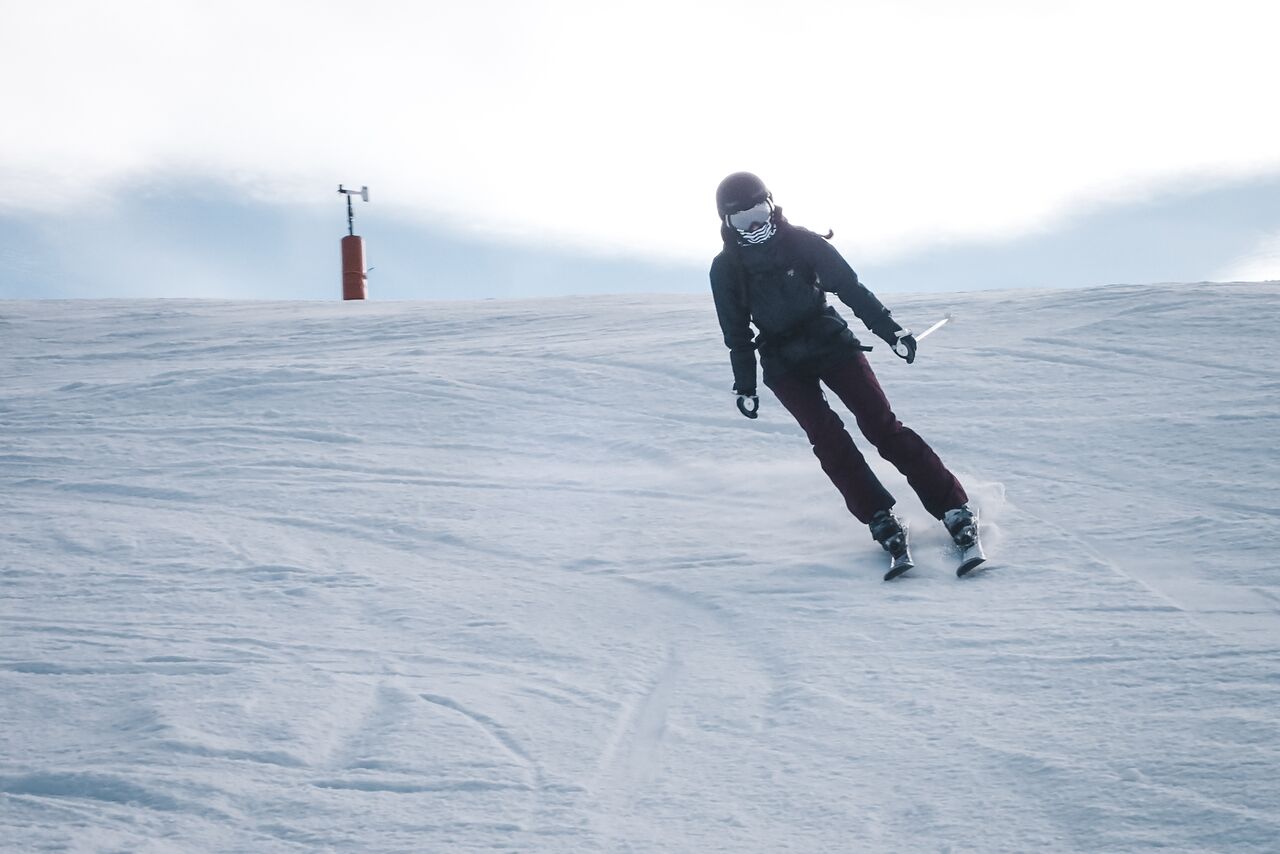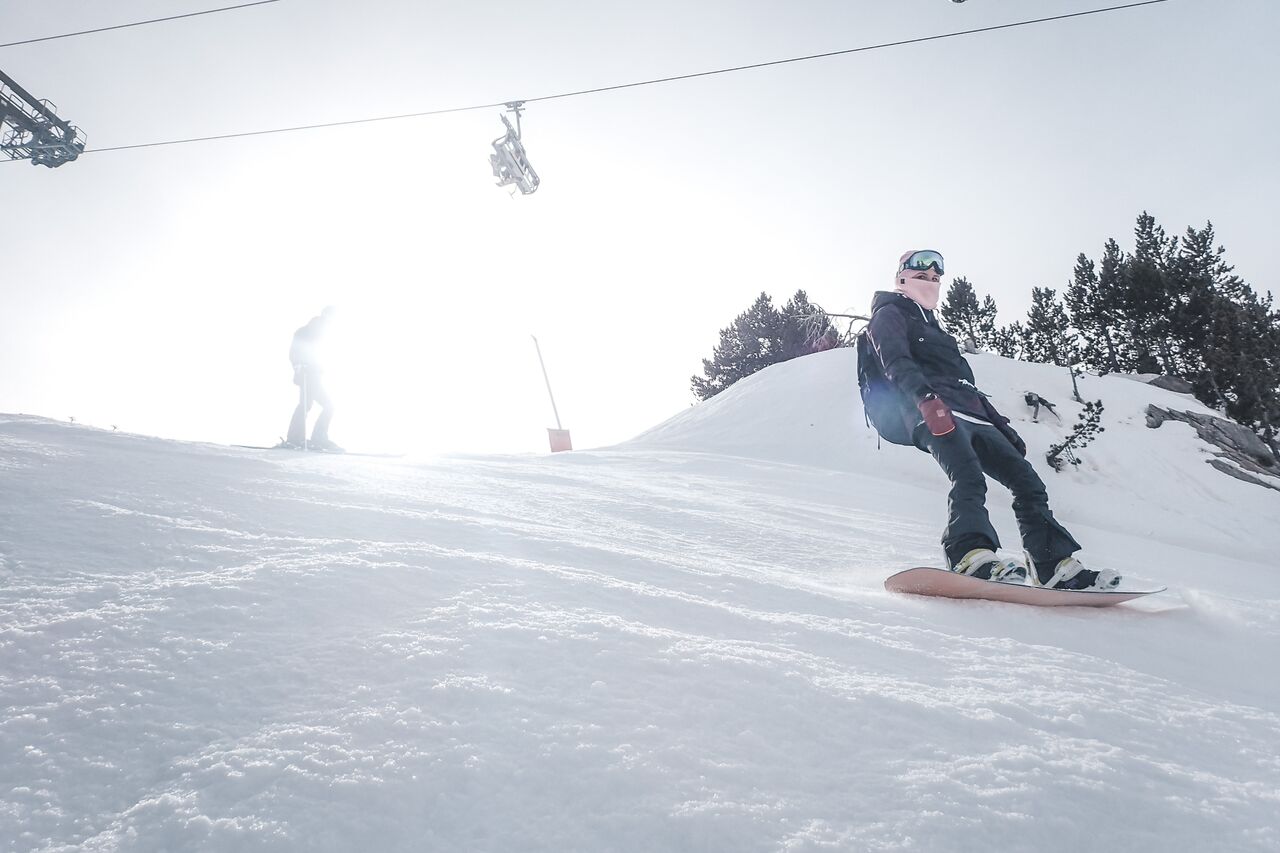 The best would be to be able to do both, right? As for me, I'm not ready to stop skiing, but I don't like to dwell on a failure and I think I will try again snowboarding someday, following Manon's advices : "I recommend to be well accompanied. I mean to start with a good snowboarder who has the good reflexes and who has been taught how to begin properly, who knows well the different learning steps. I taught snowboarding to a few friends and today they definitively stopped skiing and I remember the main thing was to not go too fast, to be patient with them and to explain everything, even if I wanted to ride and go straight in the slope. So start with the right person and believe in yourself… because after all, GIRLS CAN RIDE! ;)"
And you, ski or snowboard? What pushed you toward one or the other?
A big thank you to Manon for her participation to this article and her joy on the tracks, go follow her on Instagram, her account is a true ray of sunshine >> @allonsrider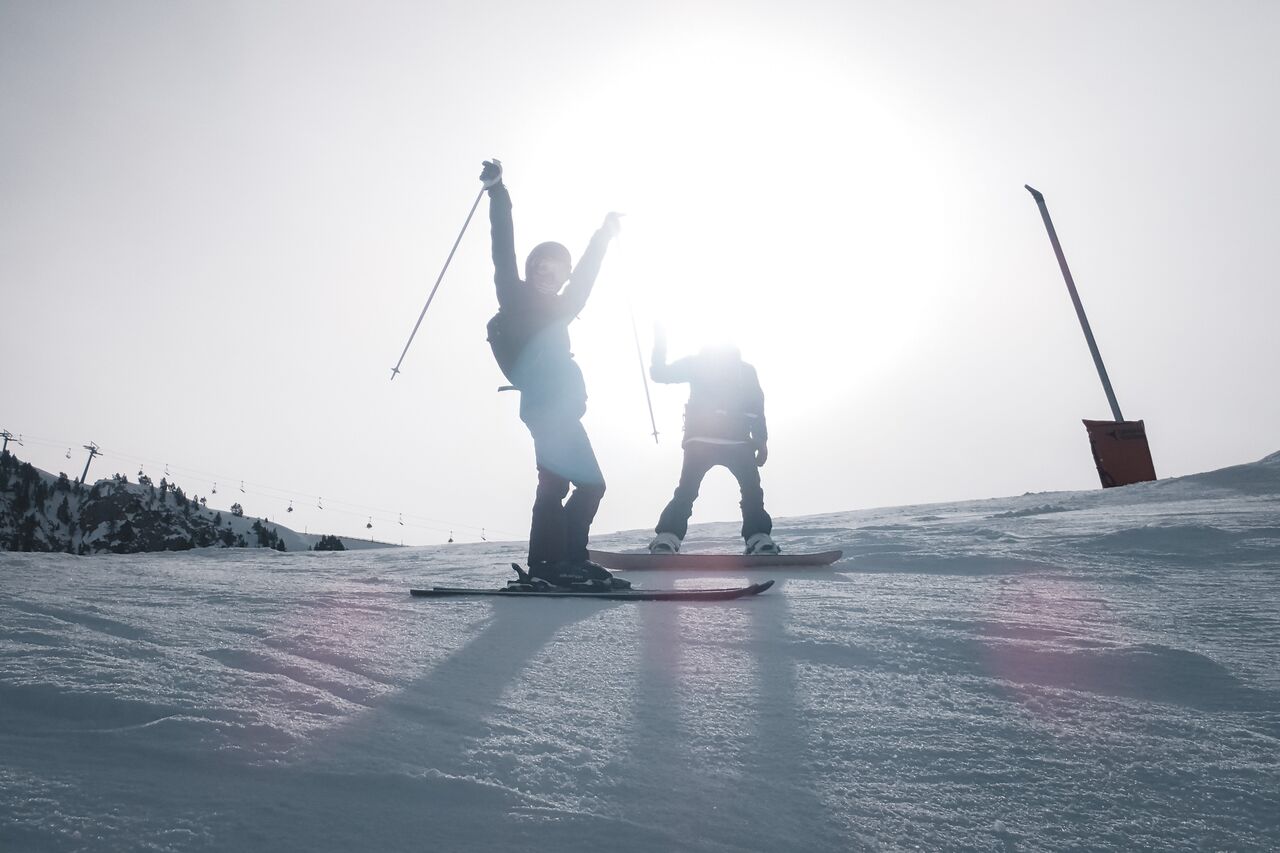 SHOP