After tropical forests, rice fields and the discovery of the balinese culture in Ubud, time for sunshine and surf! For the second part of the trip we headed south to the Bukit peninsula, more precisely to Bingin. This little coastal village sitting on the cliff faces perfect waves and lives on surfing and tourism while keeping that typical balinese charm.
Totally different from the center of the country, landscape in this part of the island is made of wild fields and forests crossed by little winding roads, countryside villages, hôtels and accommodations and, the most important, beautiful beaches at the foot of the cliff. My first impression when we arrived was the mildness of the climate, a true delight to feel the warmth and the sun after the humidity of Ubud, then followed the awe when discovering the waves and a sort of peace and a feeling of well-being that didn't leave me until the day we left.
Well settled in this little paradise and didn't really move until the end of the trip, we enjoyed fully our time in this peaceful and beautiful place. So I can't really play the touristic guide here when I really just surfed and enjoy life for 10 days, but here is a little glimpse on how a day in the Bukit looks like.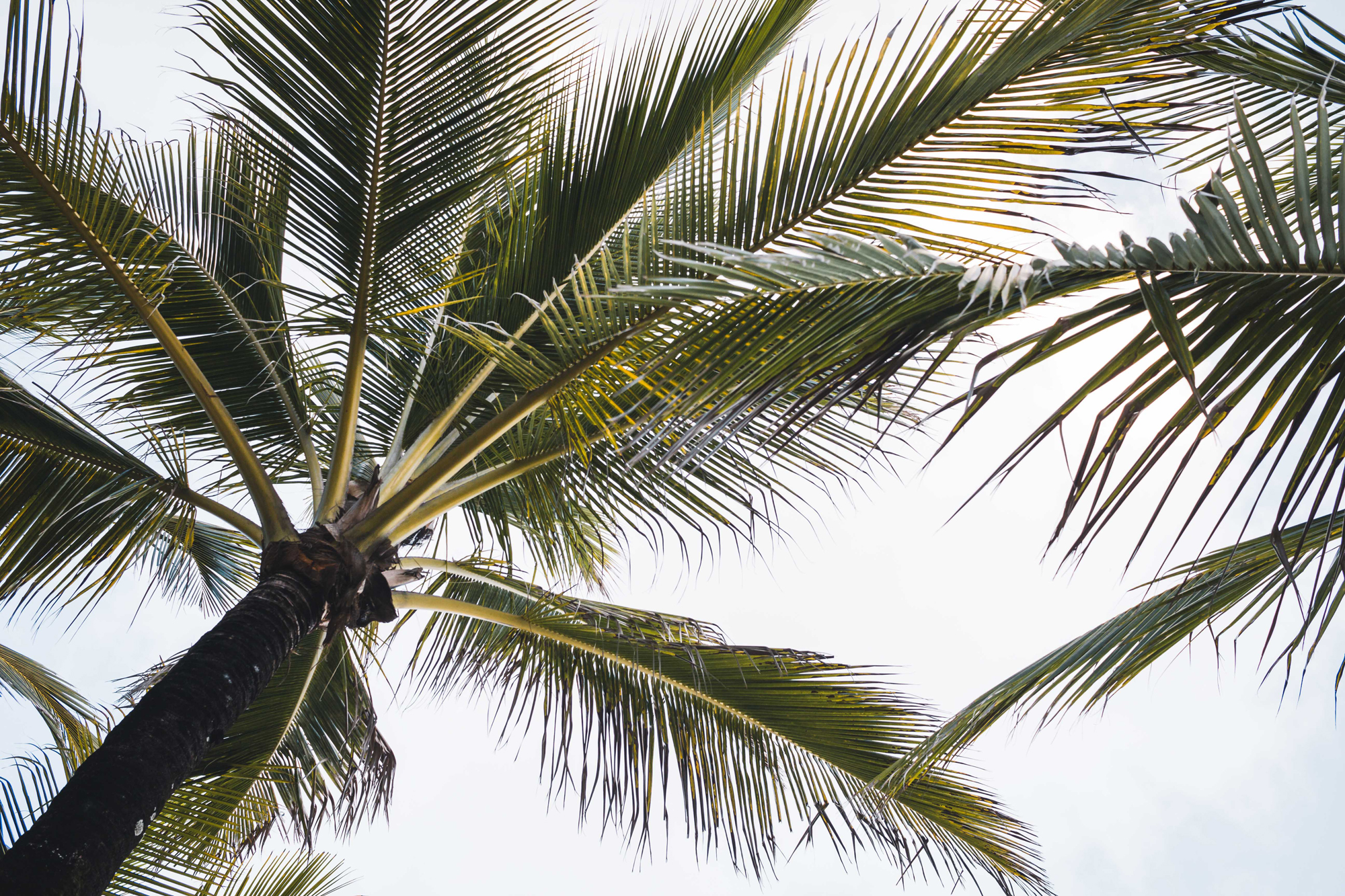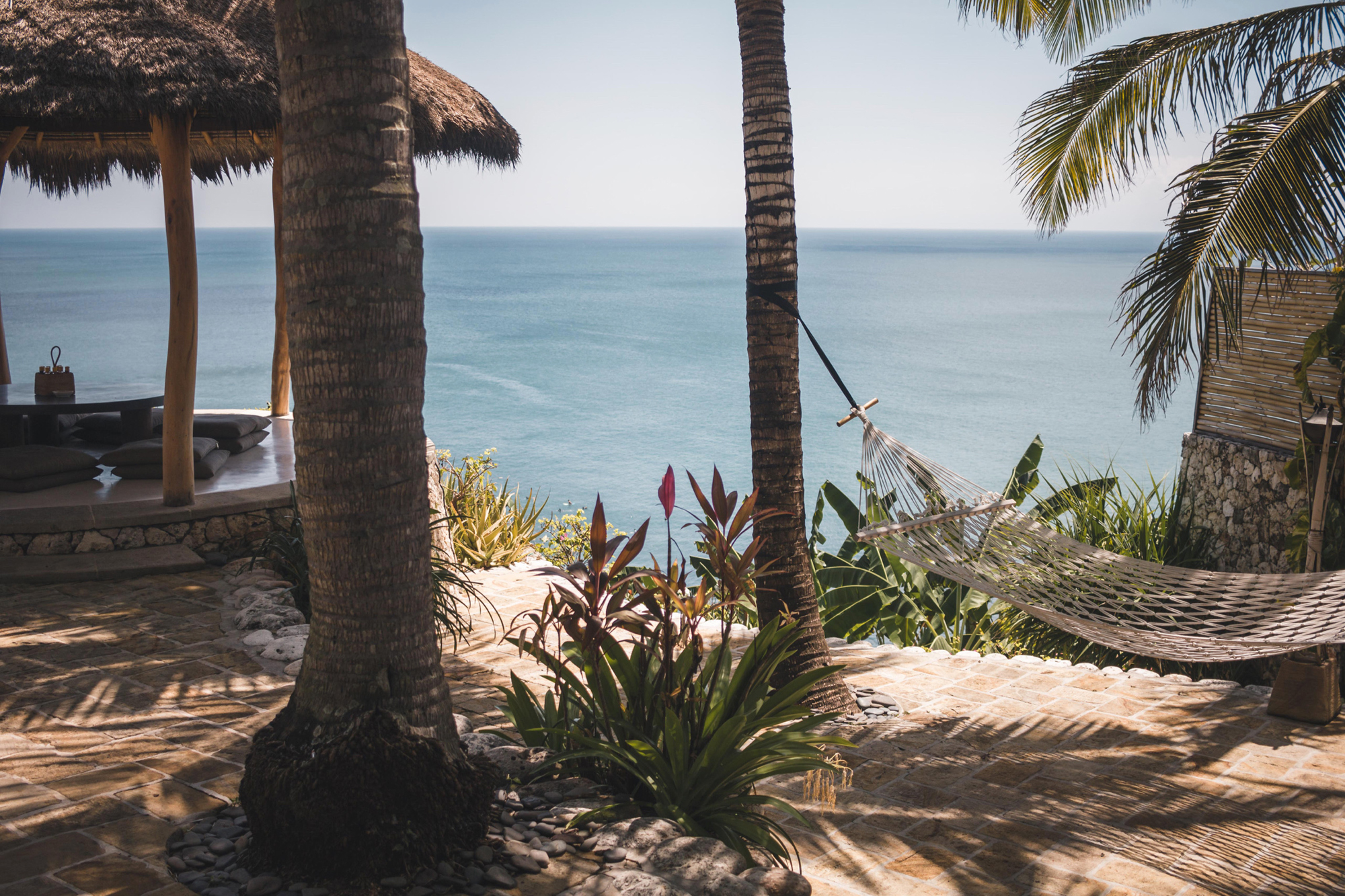 Daily life on the Bukit
Days usually starts at sunrise around 6am, drinking a coffee in front of the waves and waking up slowly. We quickly got into the habit of reading early in the morning while waiting for the tide to be good for surfing, mornings there are really peaceful and those little moments of calm are favorable for reading and meditation. After a good breakfast made of banana pancakes and a fruit salad with yogourt and muesli we get ready to go surfing, I put on a springsuit, sunscreen all over my body and face and go! We walk down the little crooked path along the cliff until we reach the beach and get in the water, when the tide is quite low I also put on reef boots, not very sexy nor comfortable, but very useful to get in and out of the water on the reef. After the session we either eat in a warung down the beach or go back to have lunch at the hotel.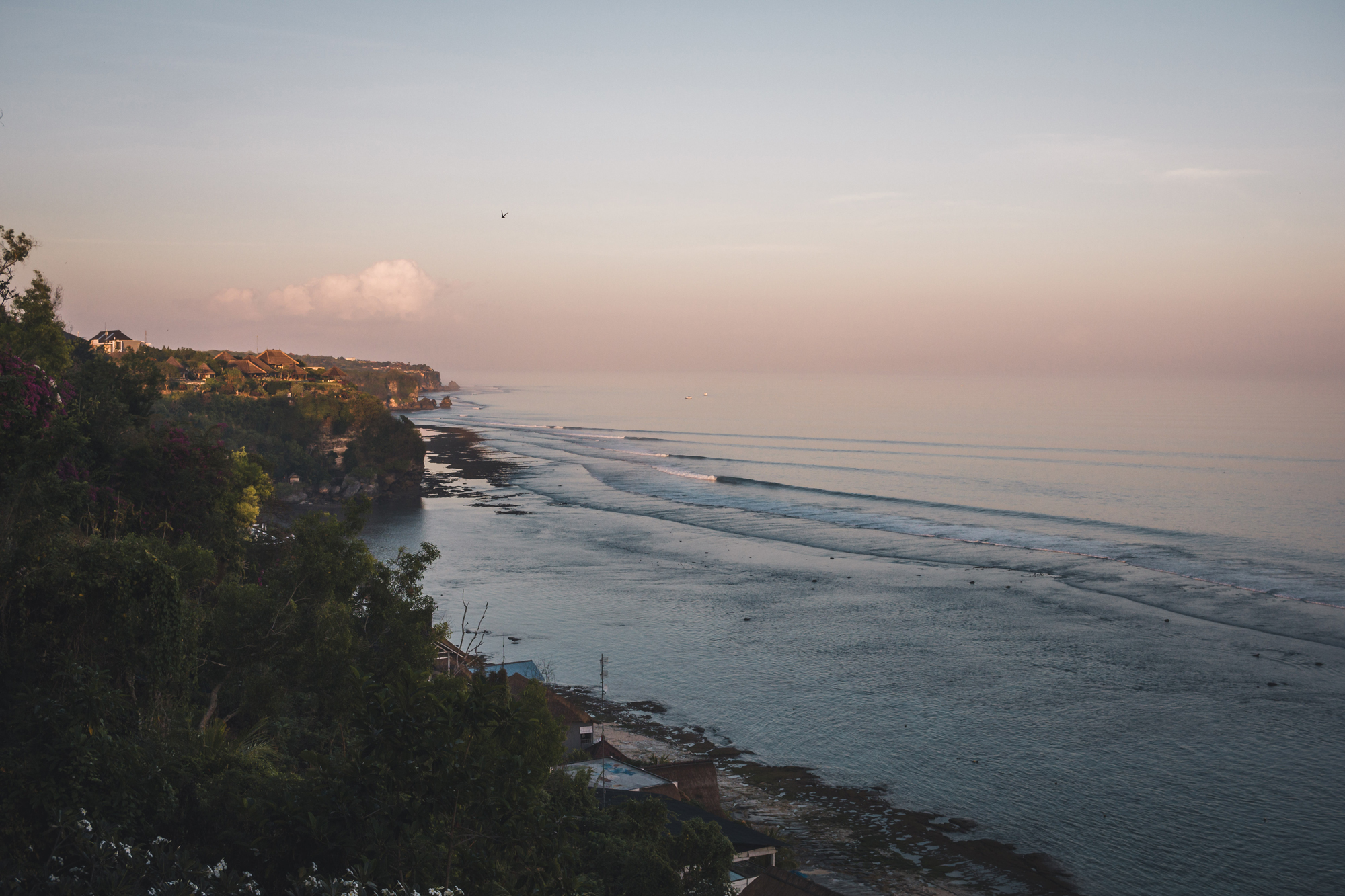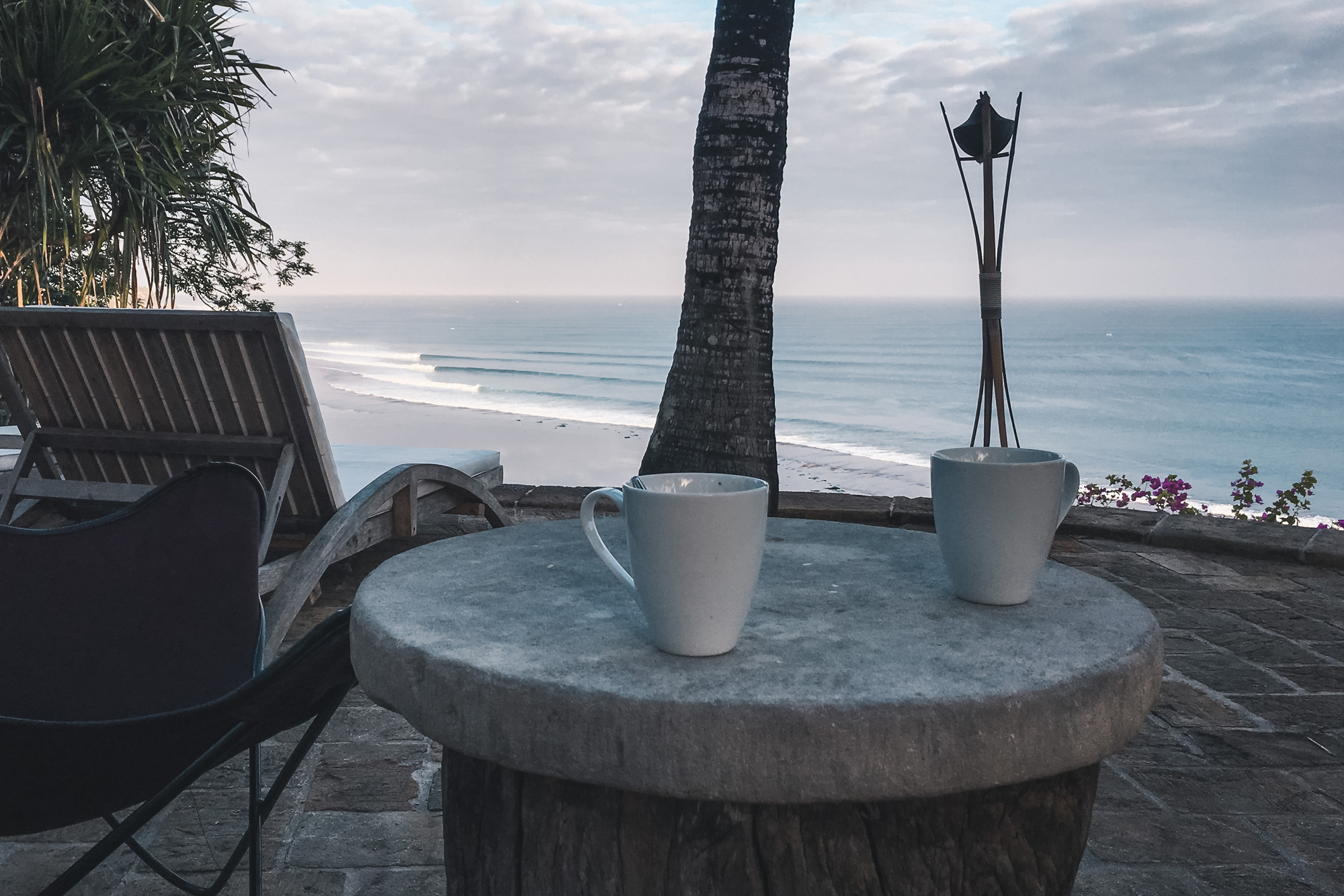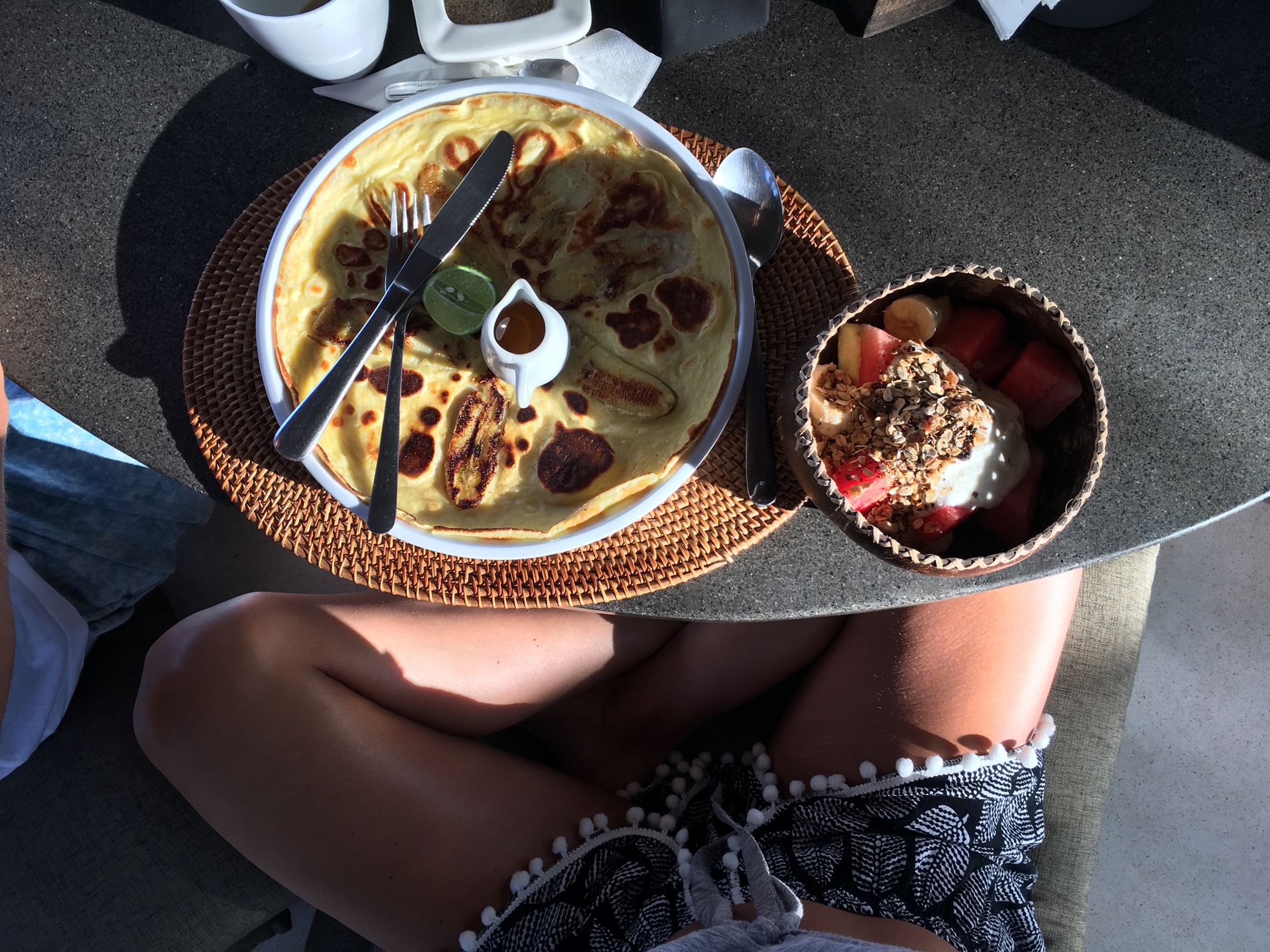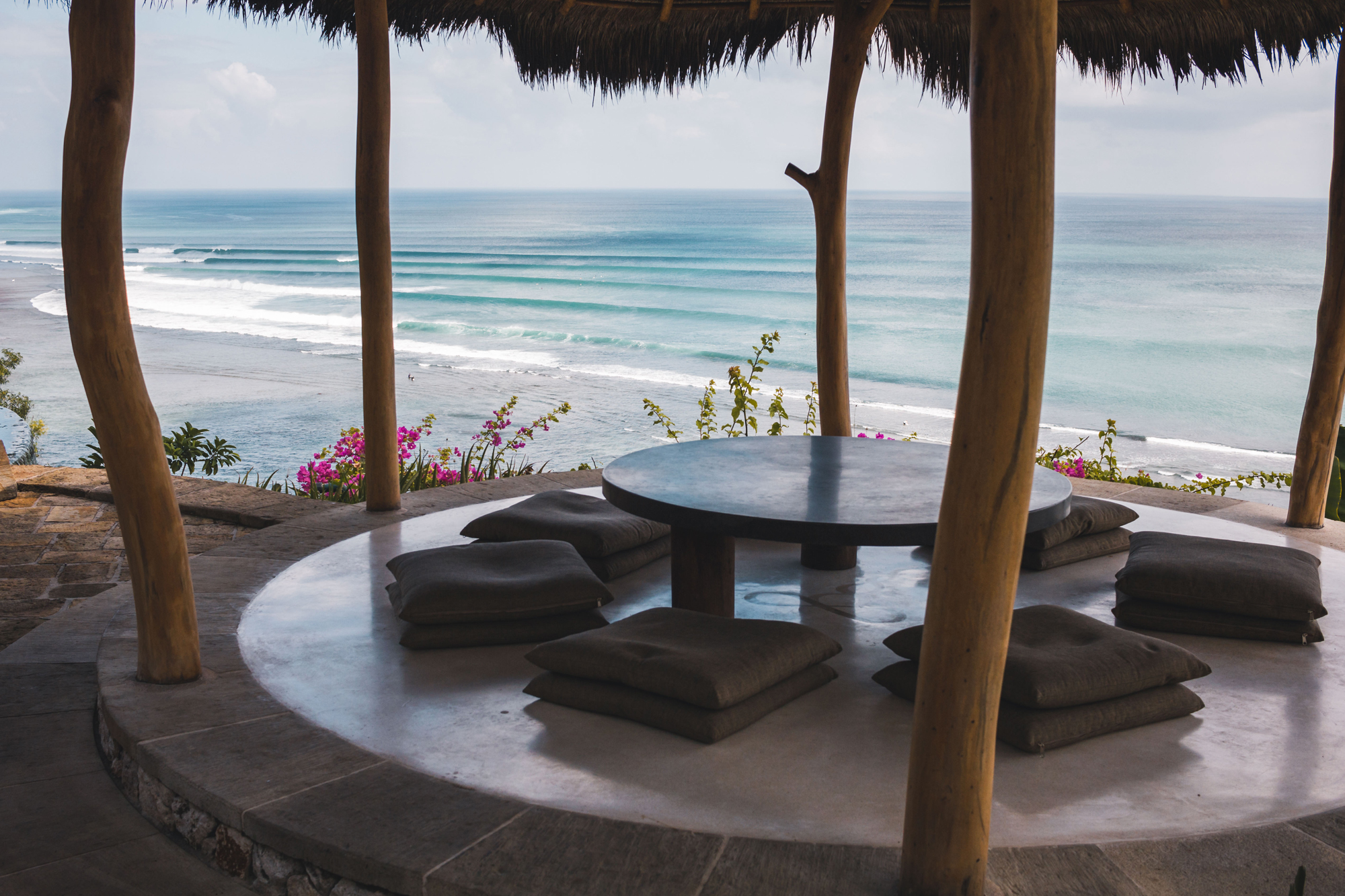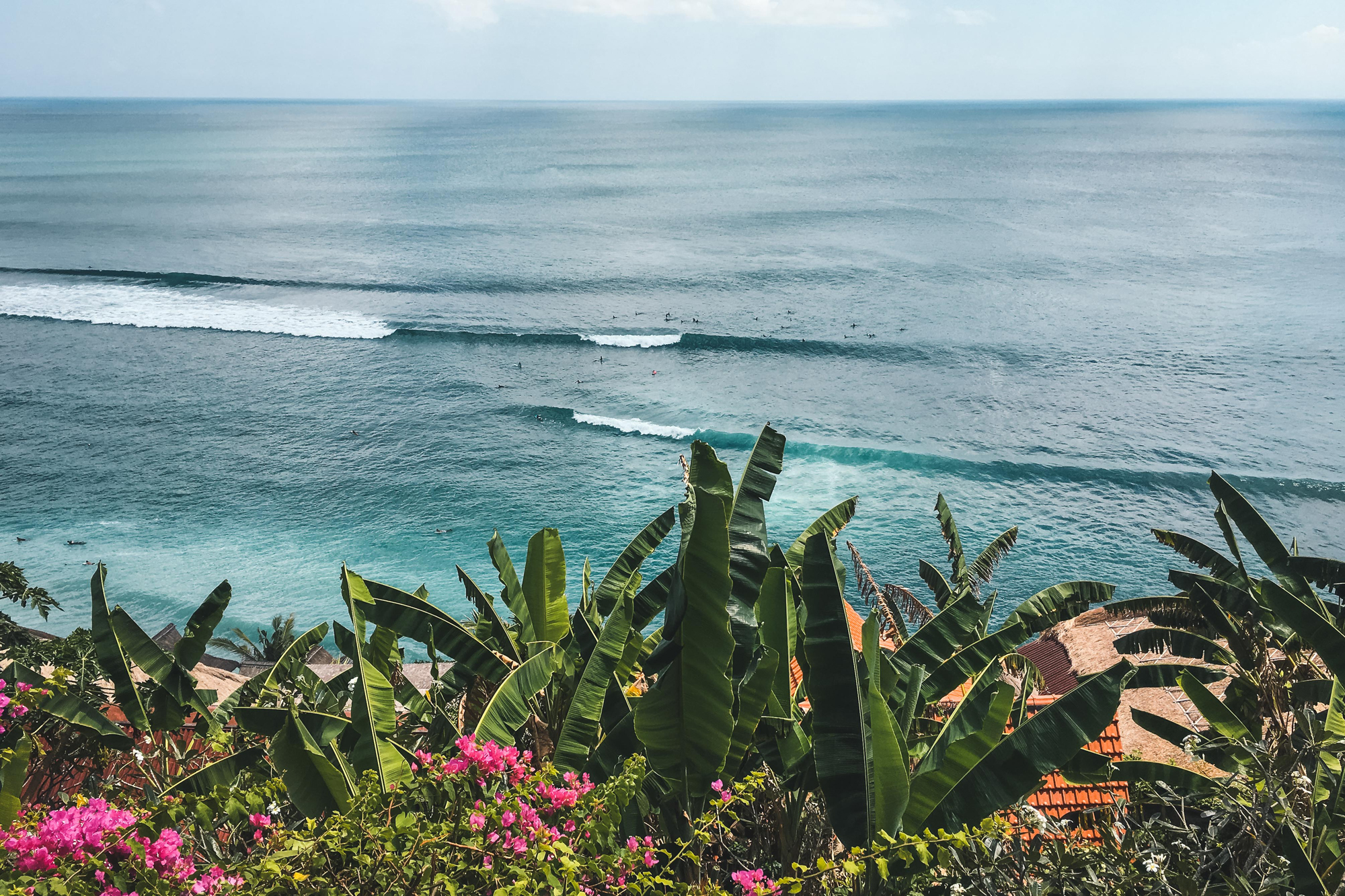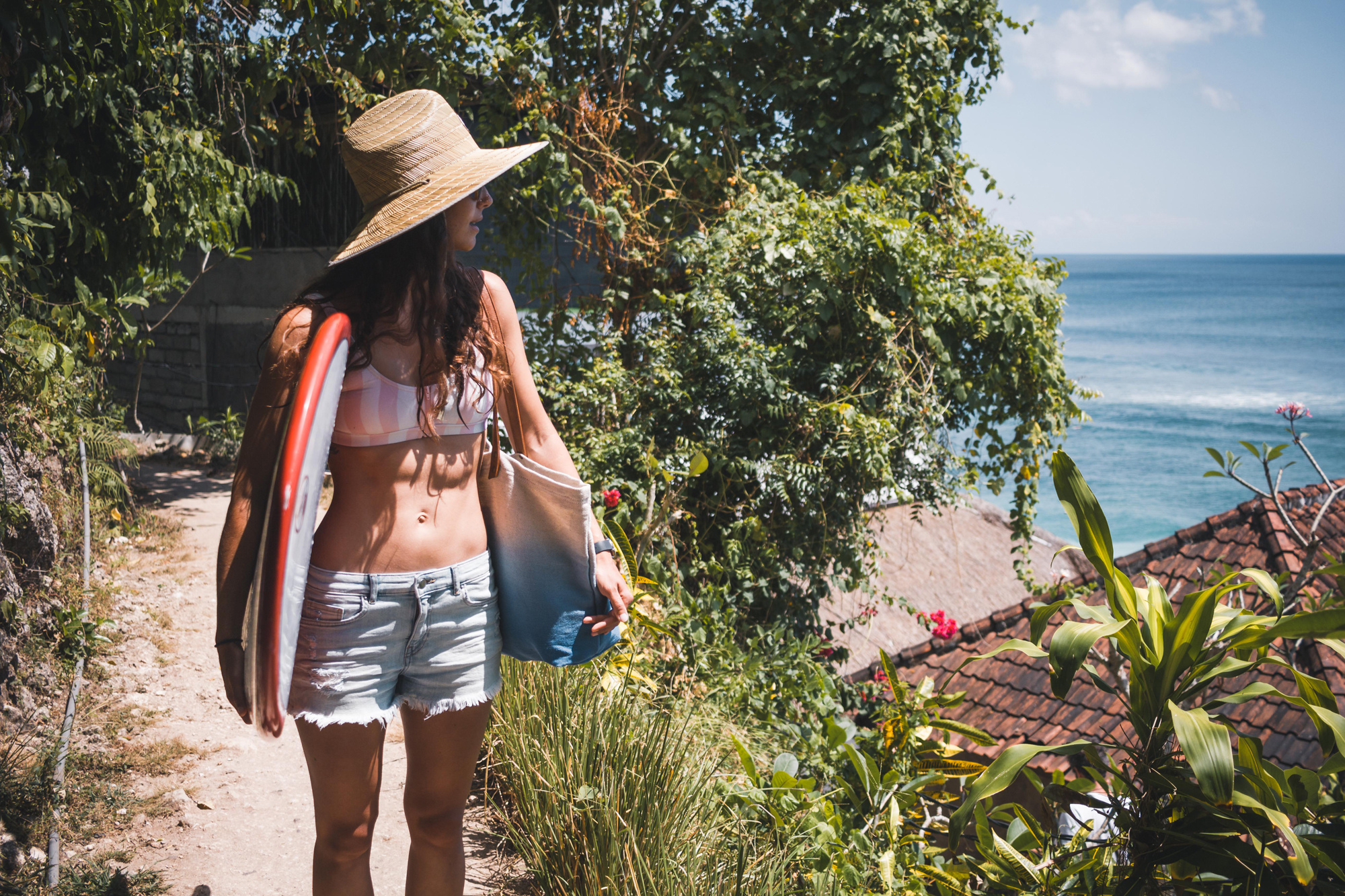 On the afternoon we either go back surfing if the tide is good, or enjoy the beach and the pool, read, get a tan, take a nap, or go for a scooter ride explore the neighborhood, to Padang-Padang or Uluwatu. Scooters and motorbikes are the most use transportation in Bali, the driving rules are very different from what we're used to (right hand drive and road code almost nonexistent…), it can be a bit surprising at first, but you'll get used to it and it is very nice to wander the countryside on two wheels. We go and have a look at Drifter, a very nice surf and coffee shop in Padang totally worth going, or stop at Nalu Bowls to eat a delicious smoothie bowl on there beautiful little patio, we tried to squeeze out the banana peanut butter smoothie base recipe but we only got "it's a secret" as an answer ahah. Then it's time to go back to the hotel for a sunset Bintang.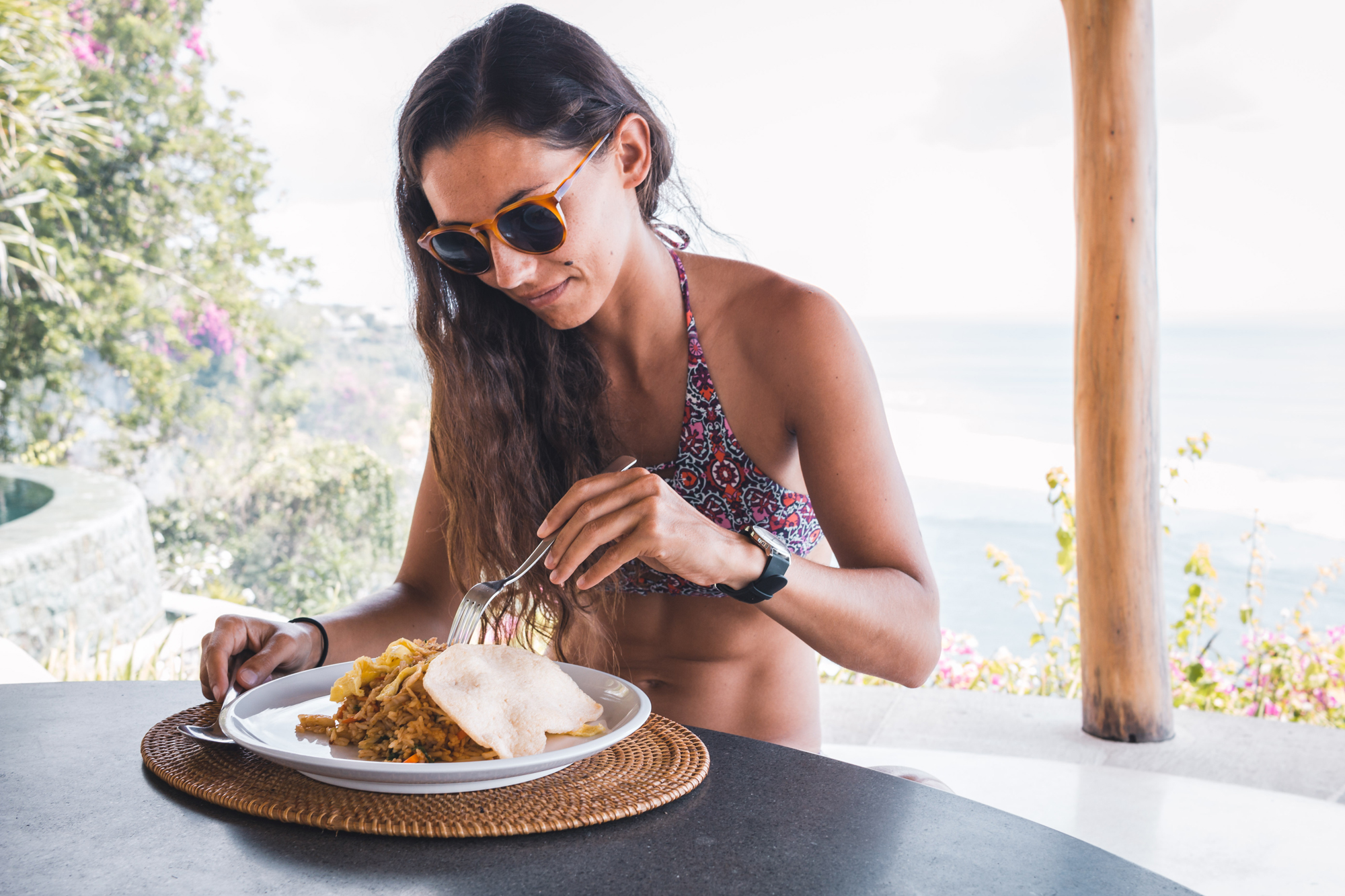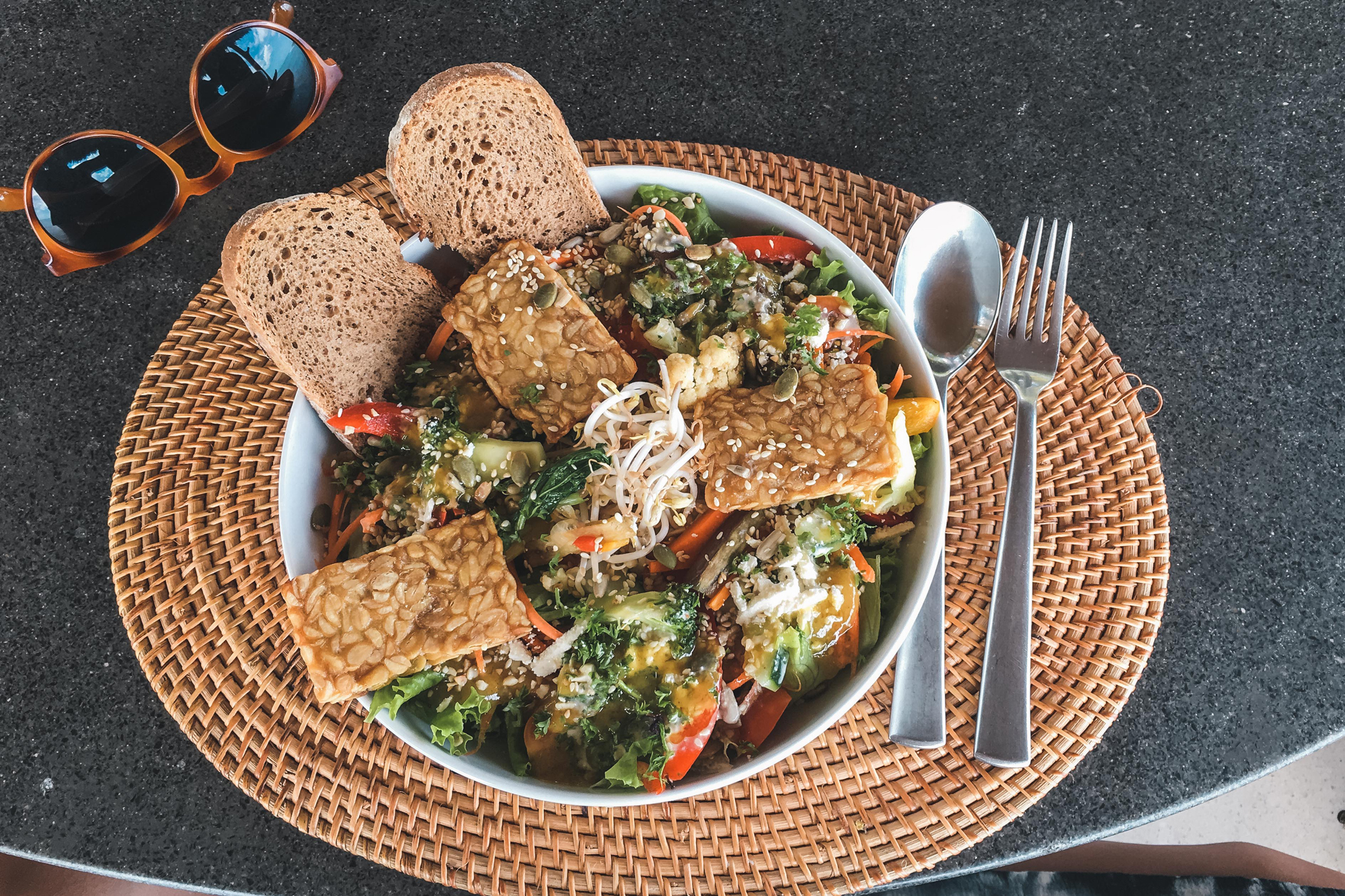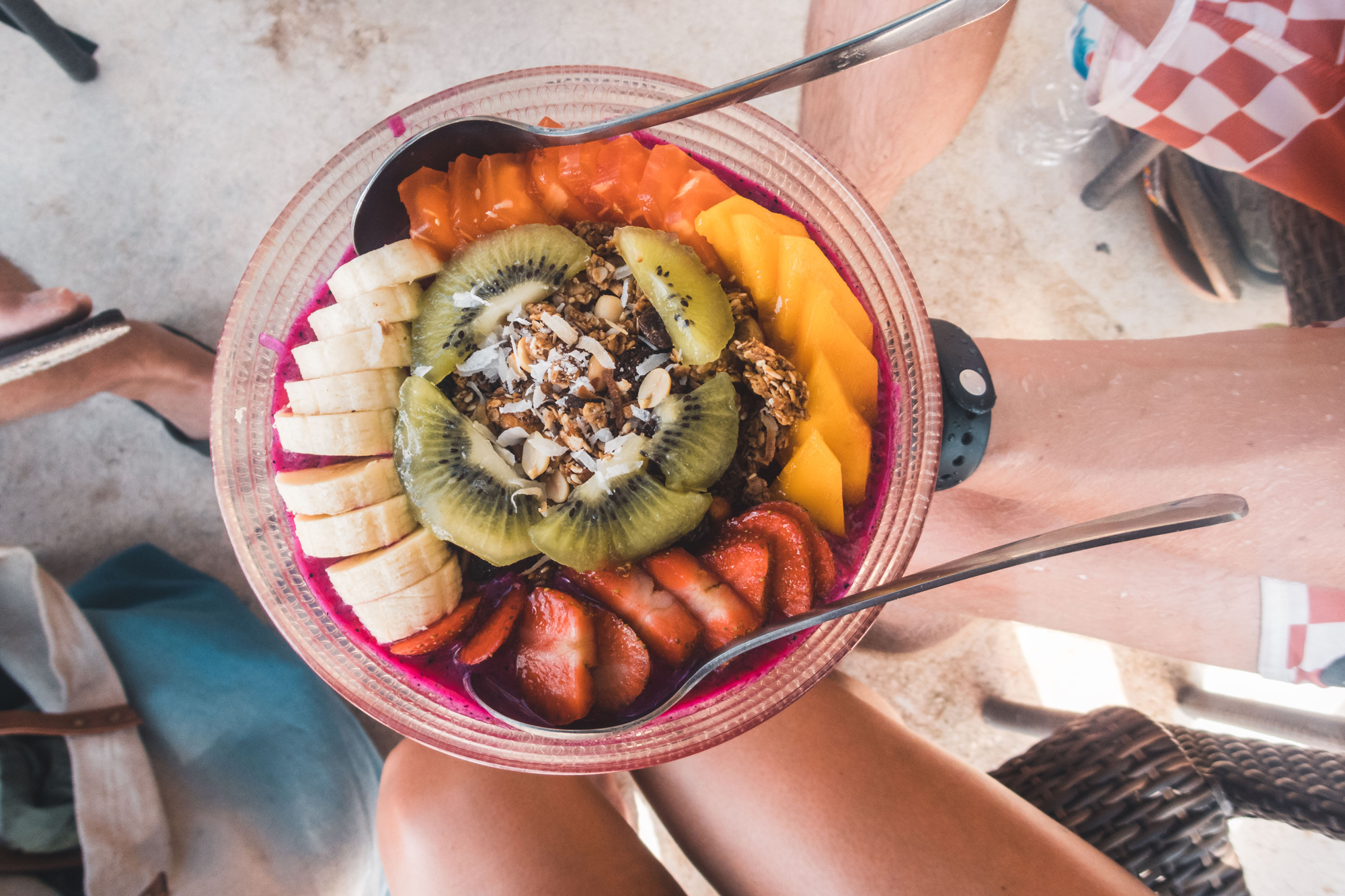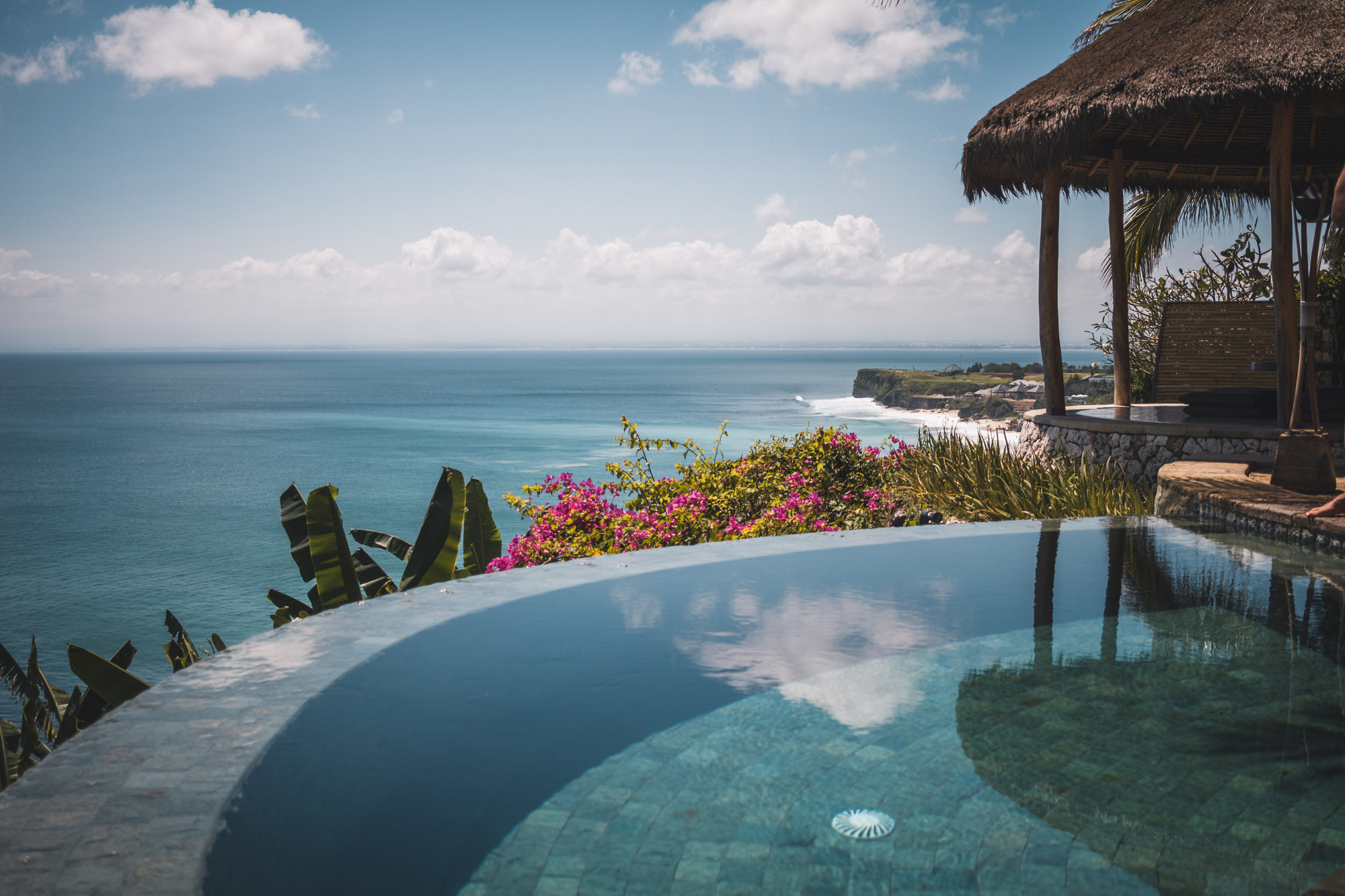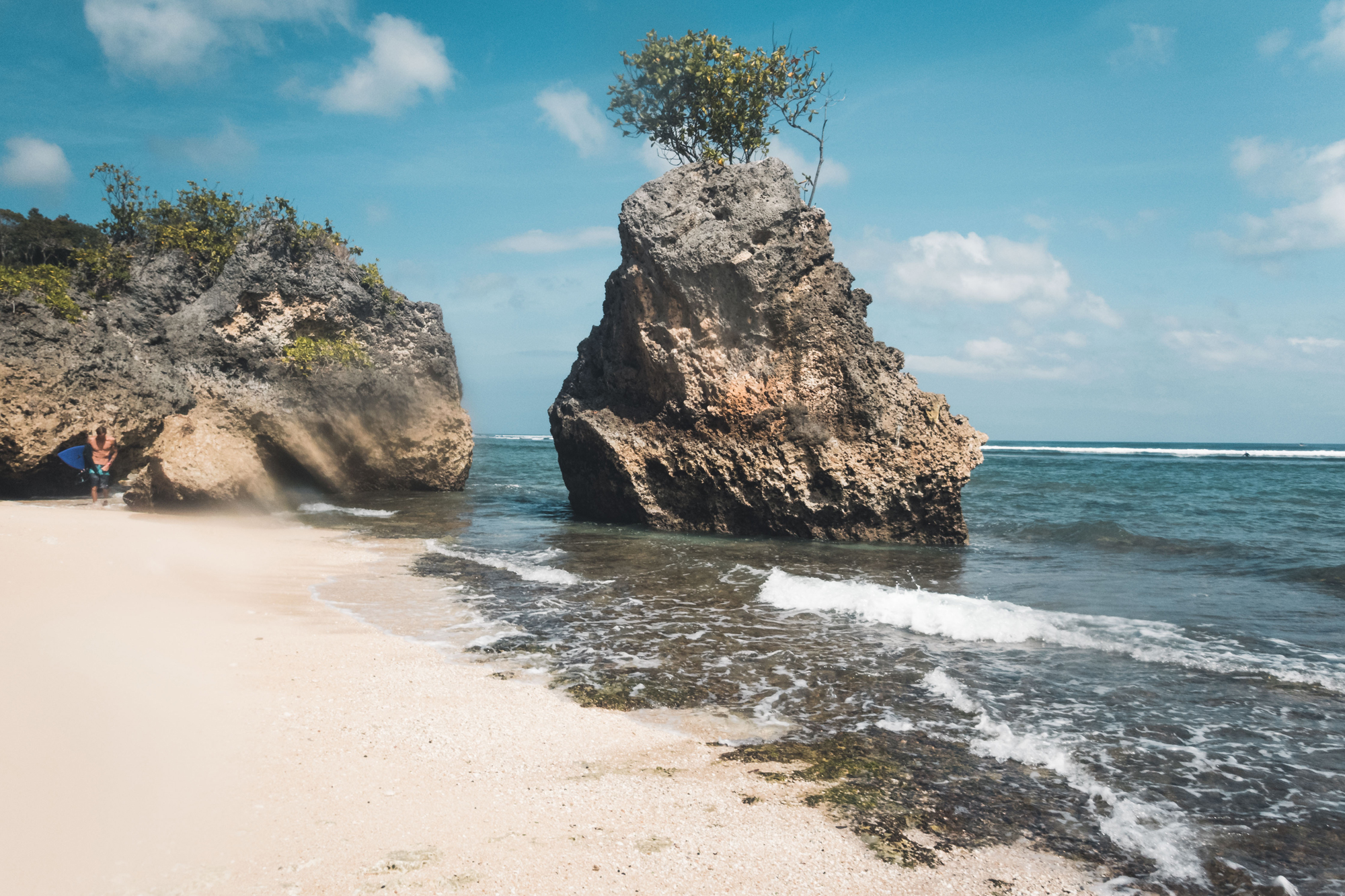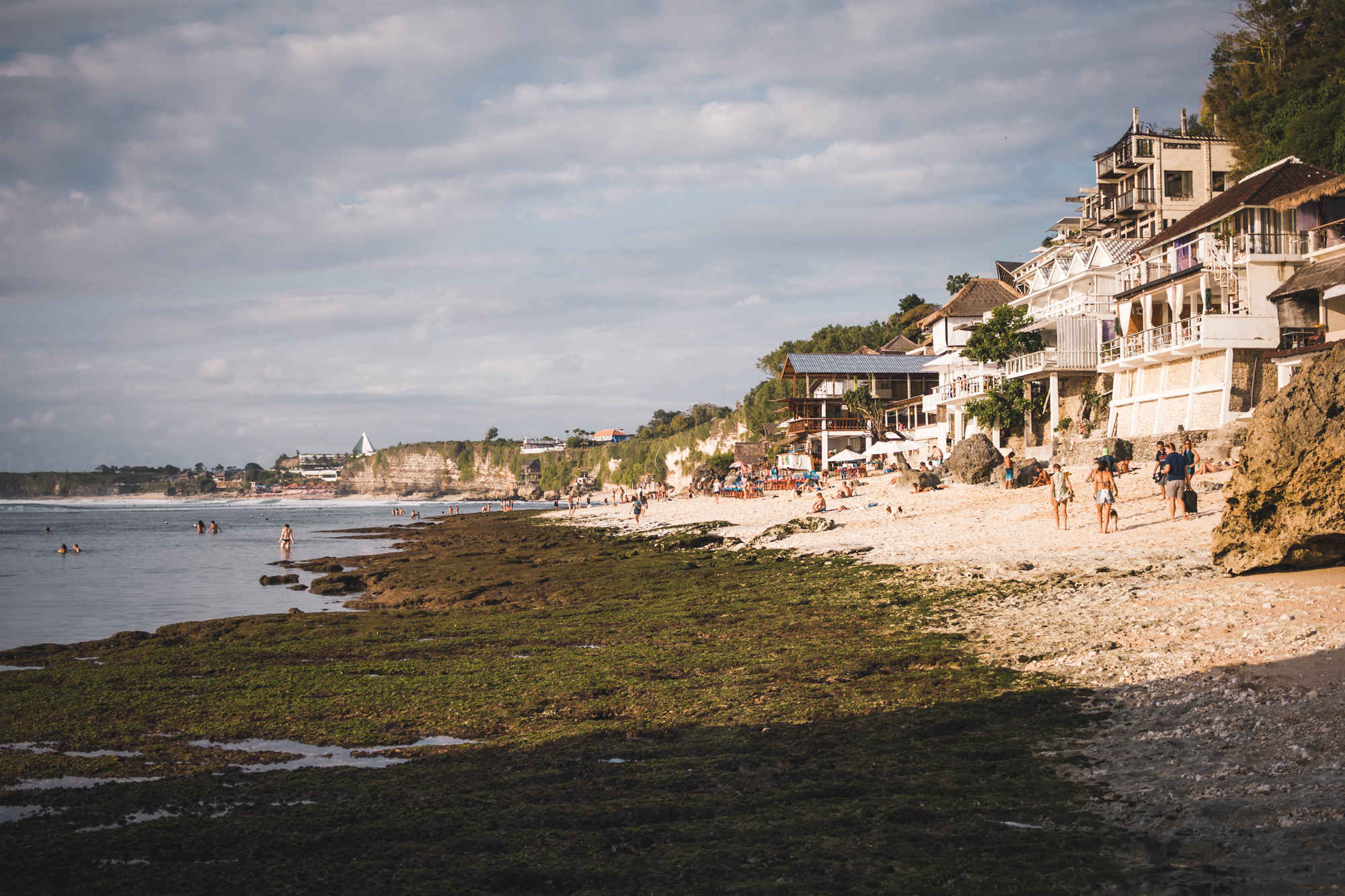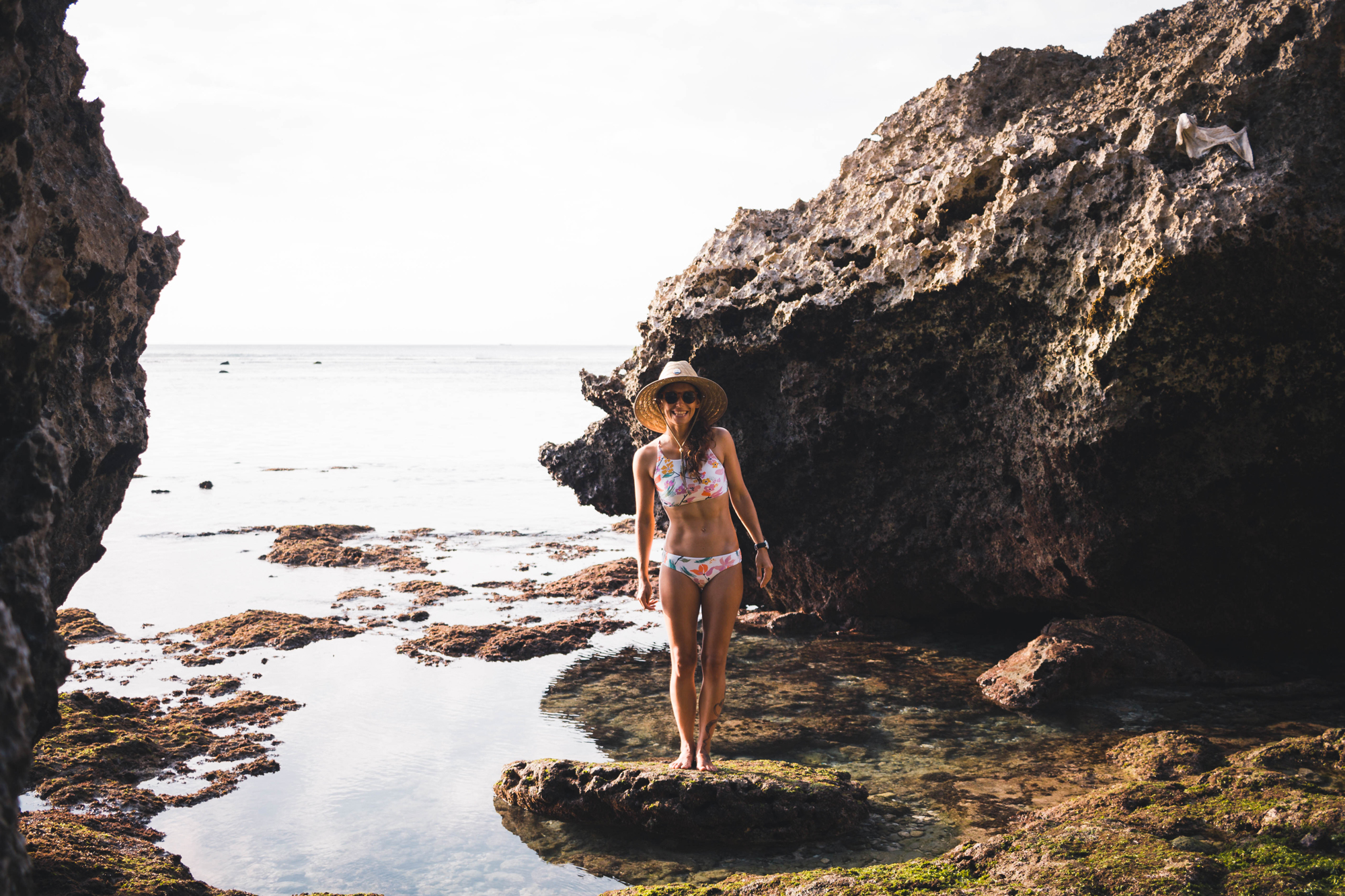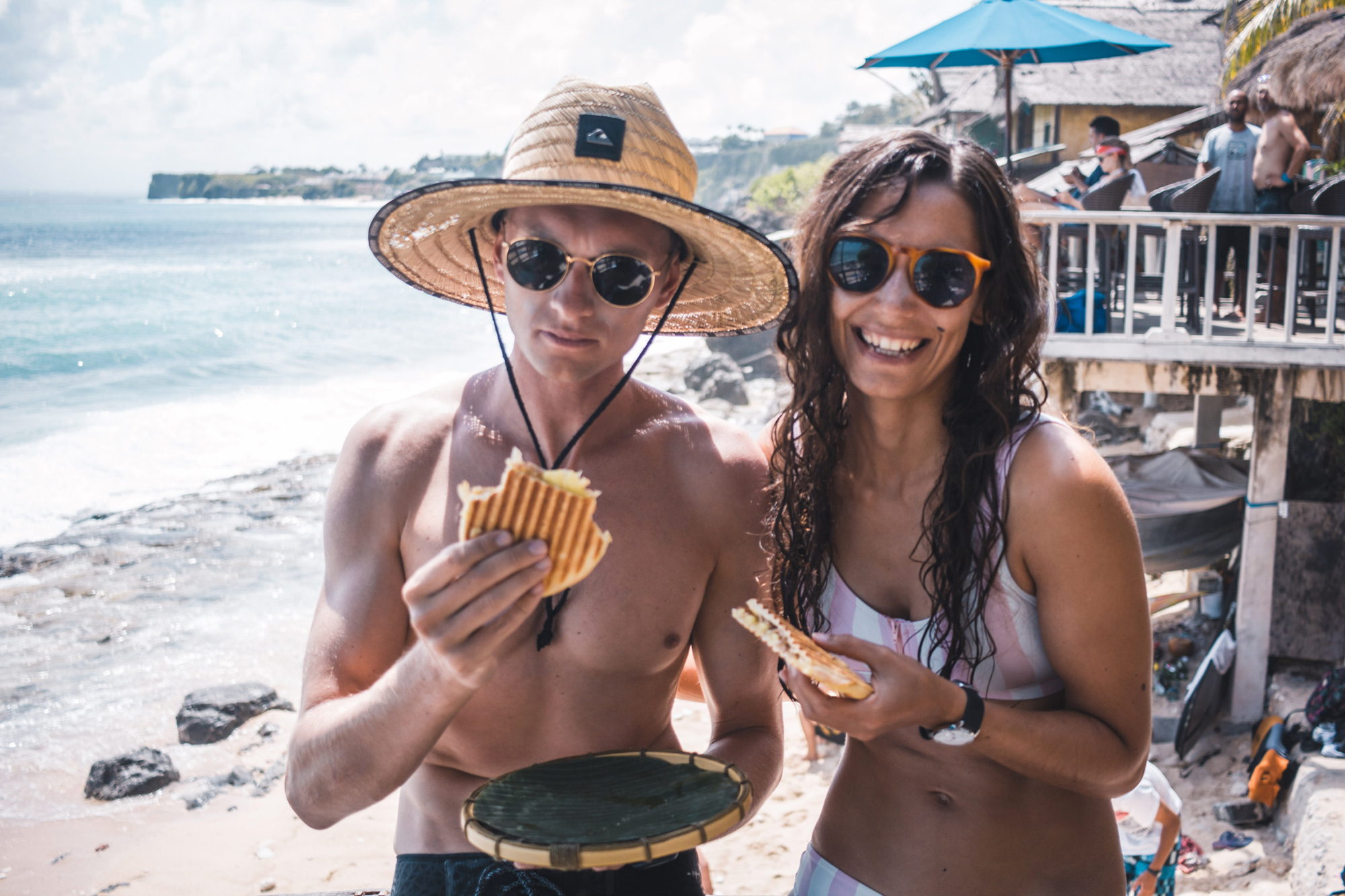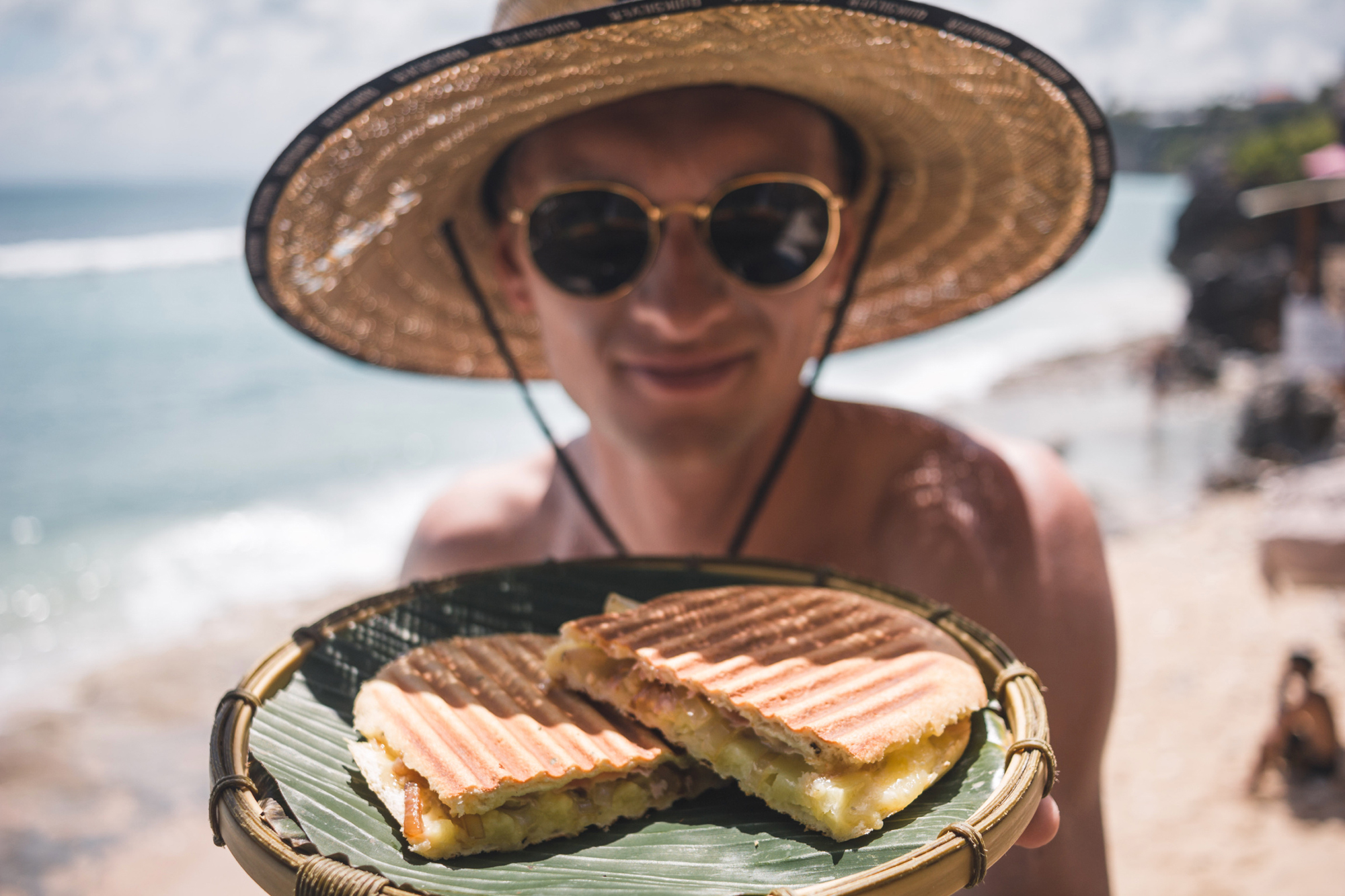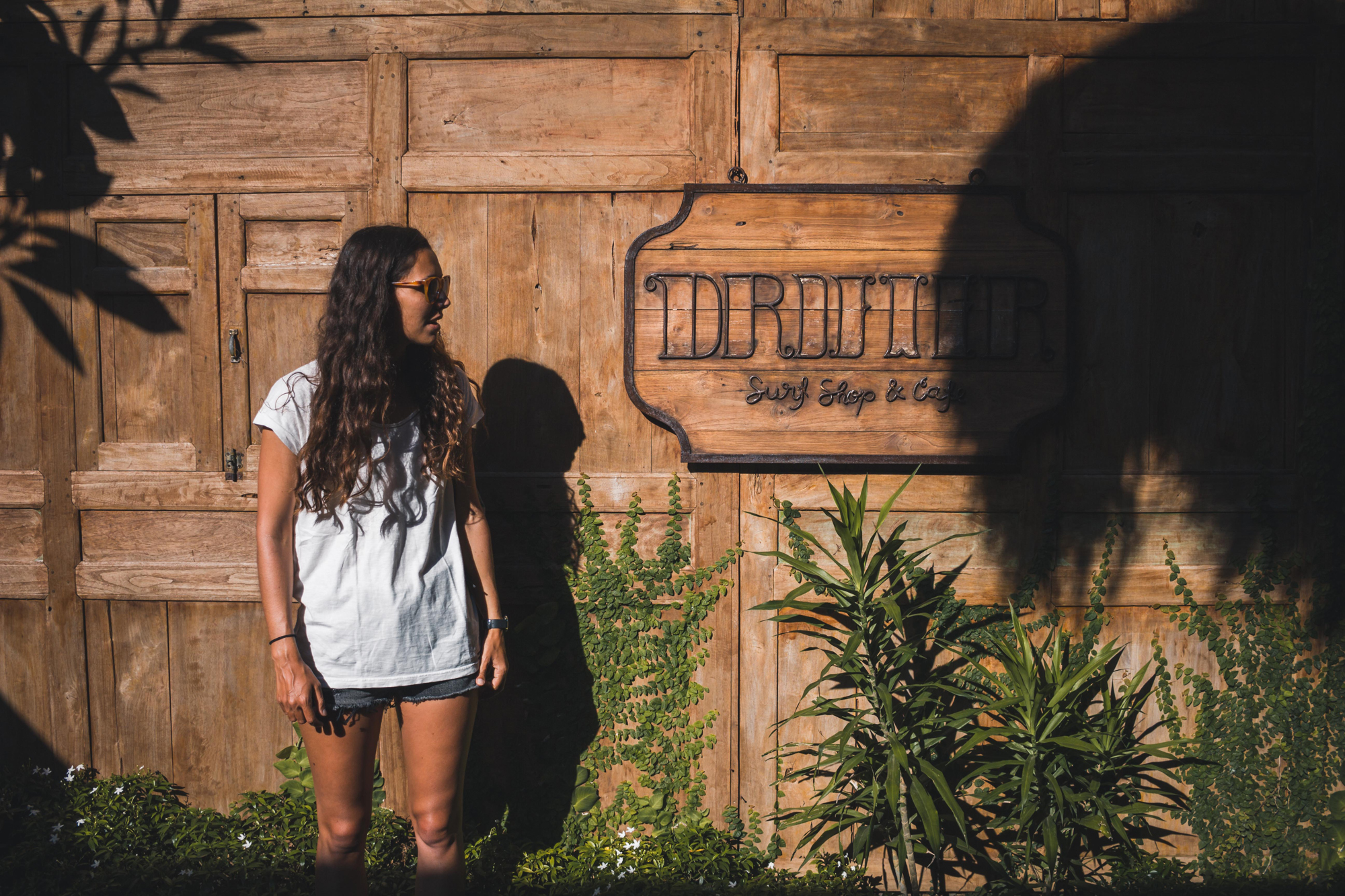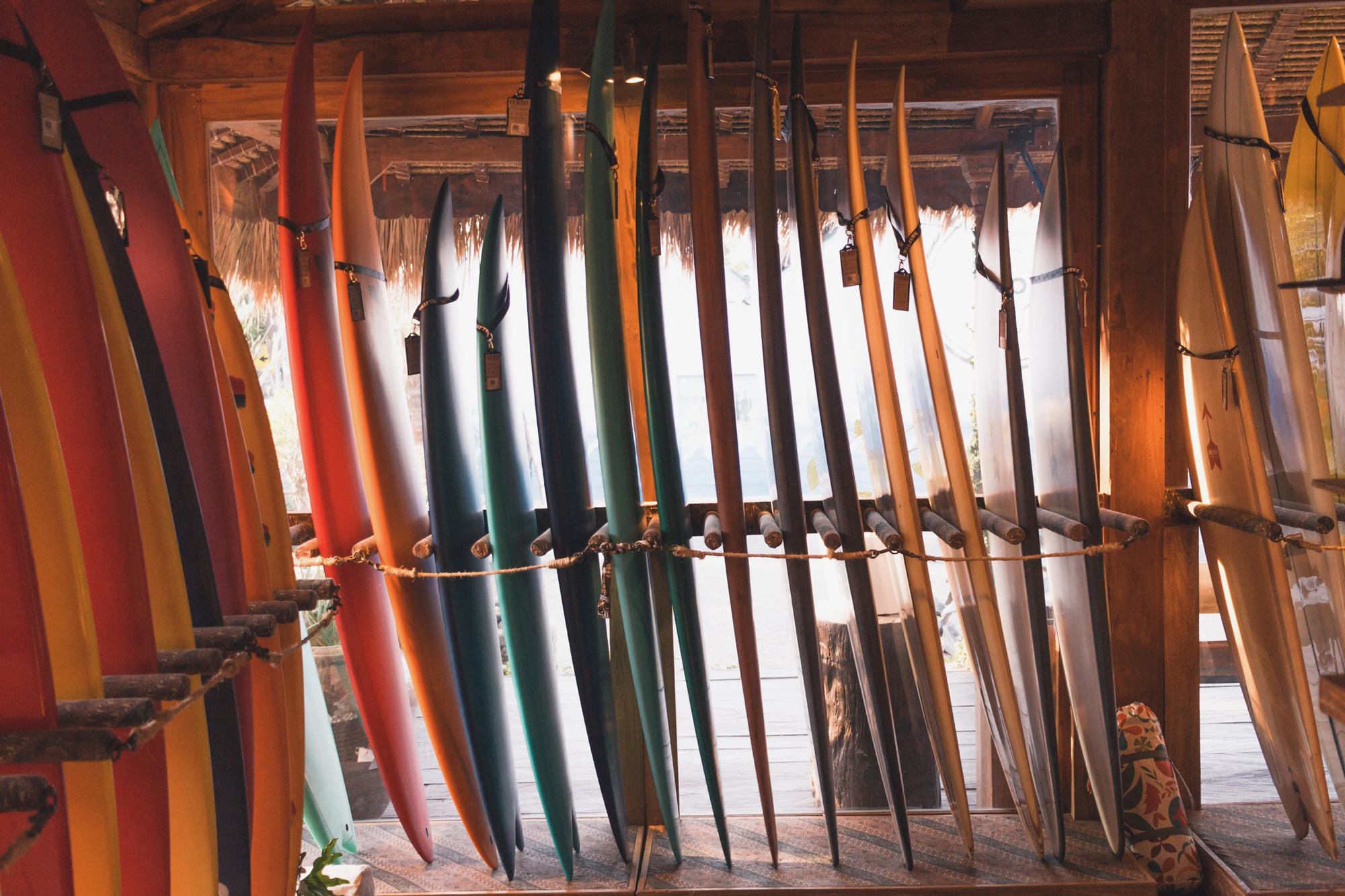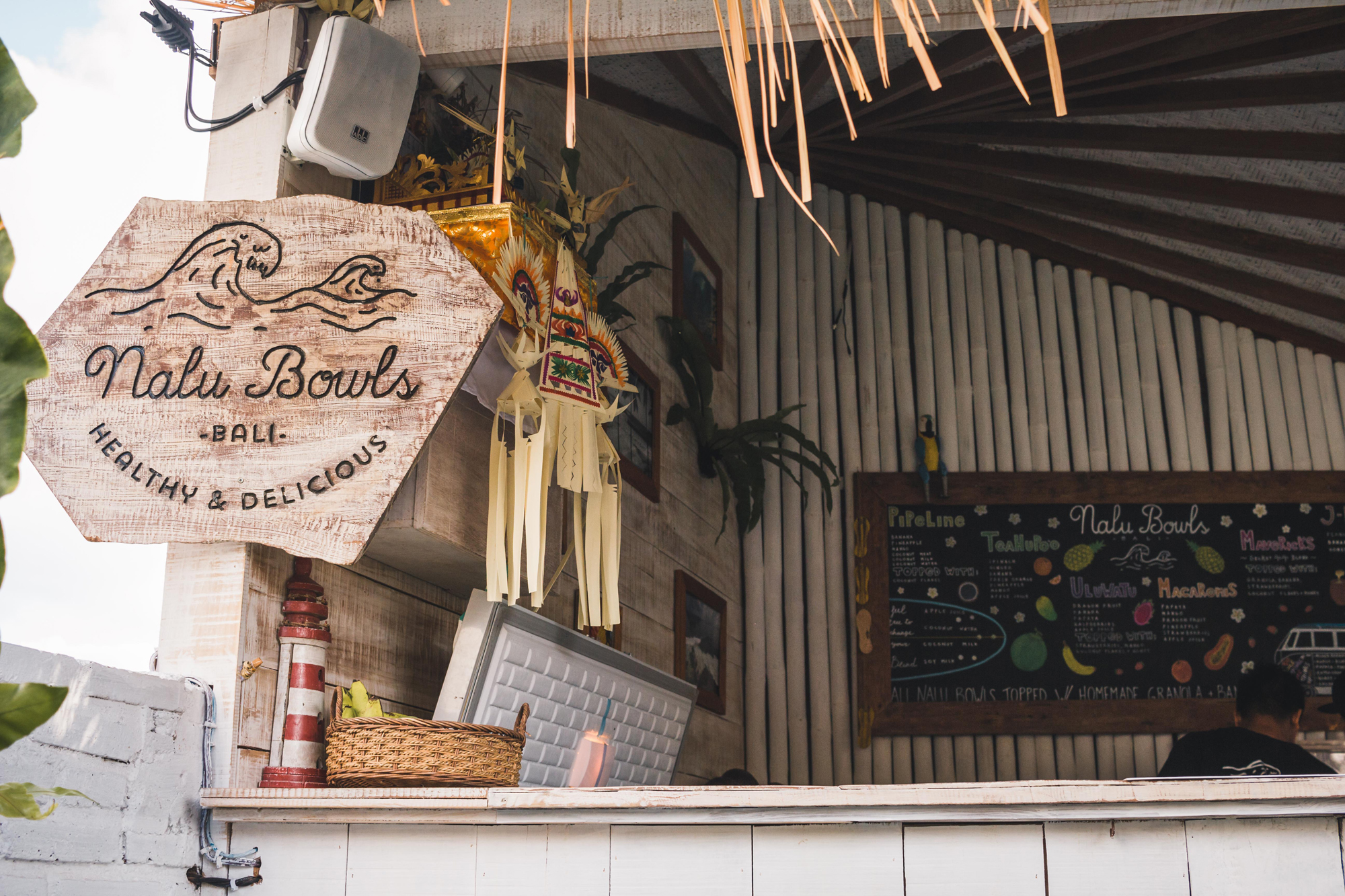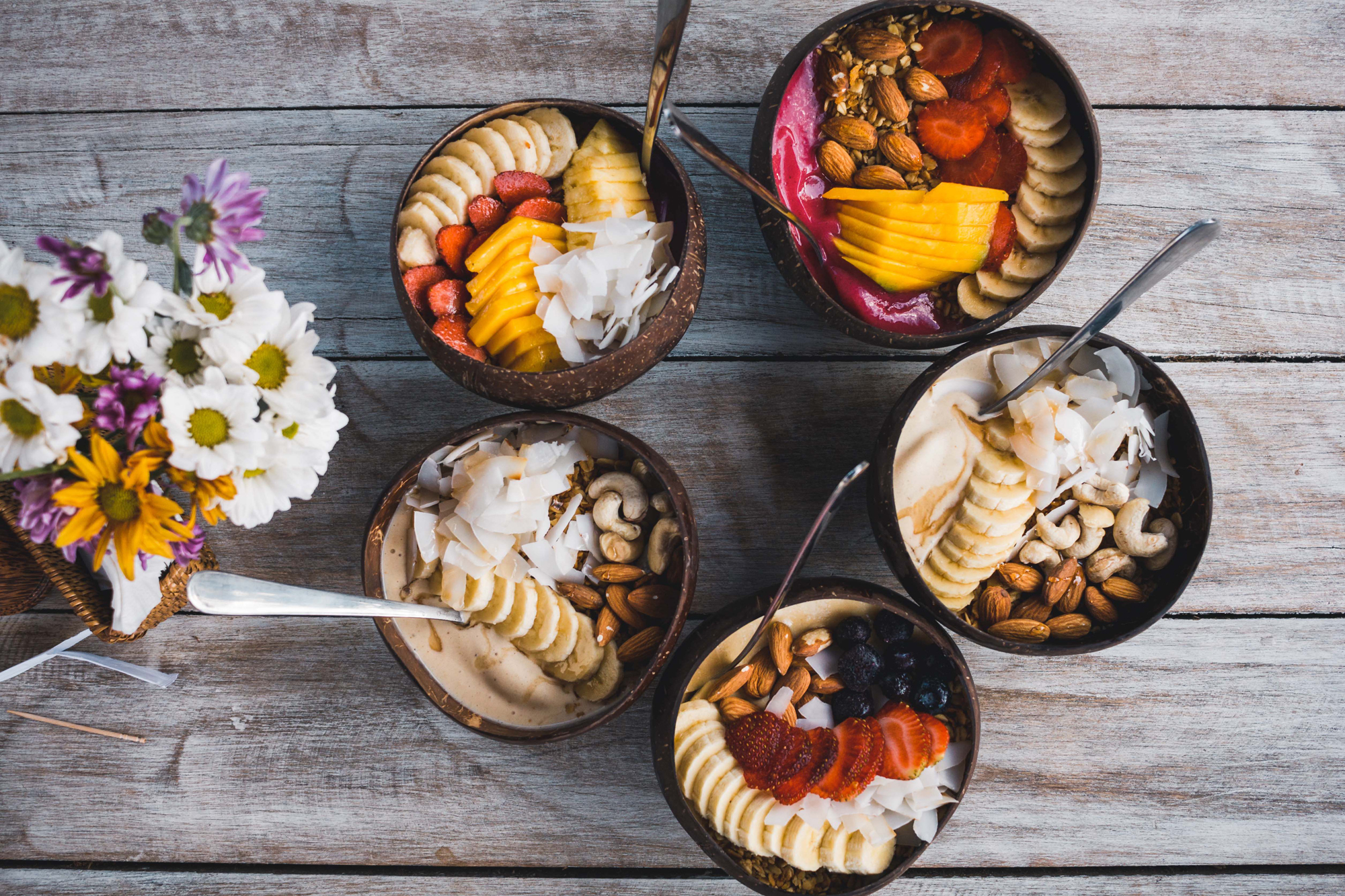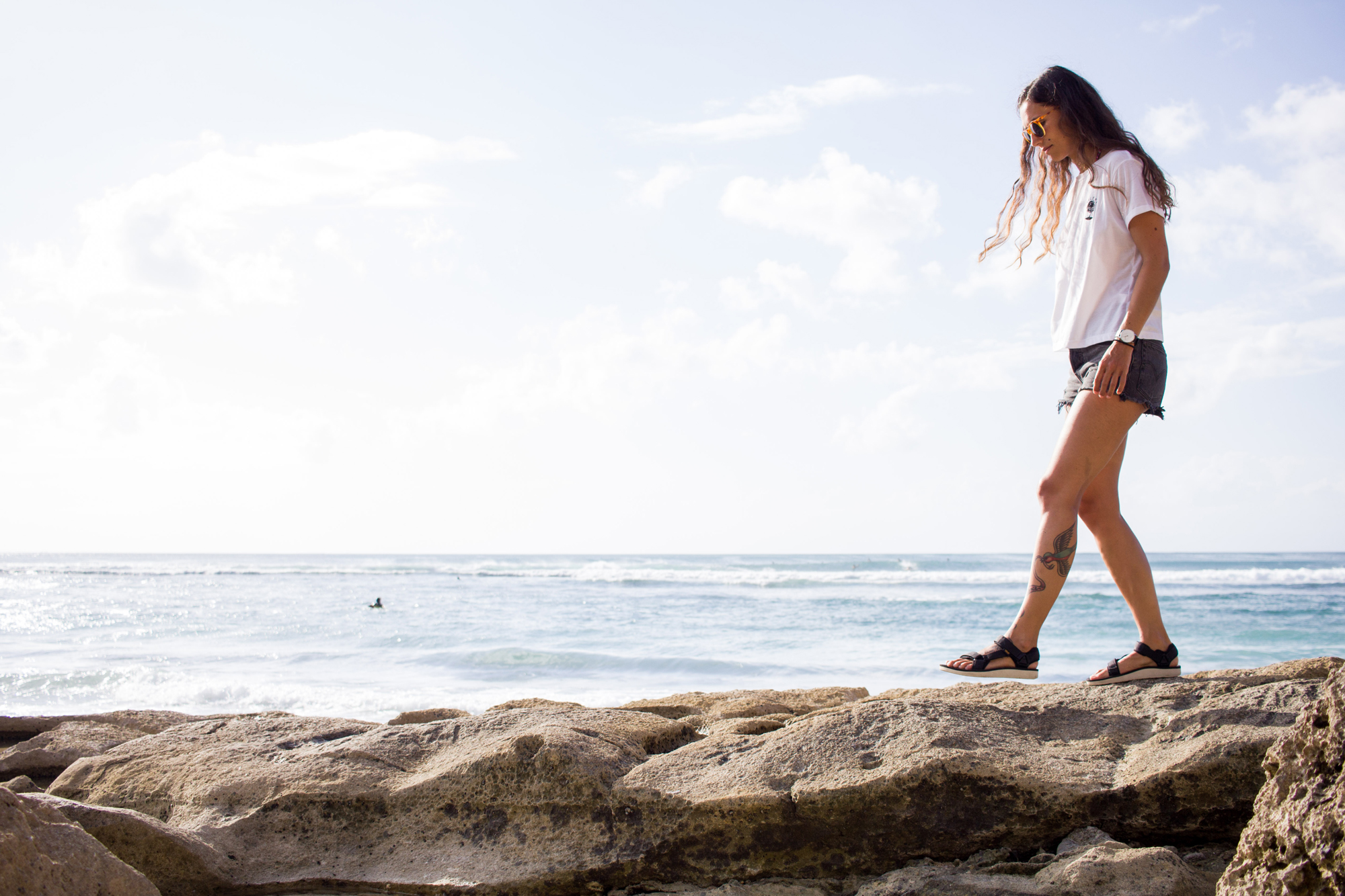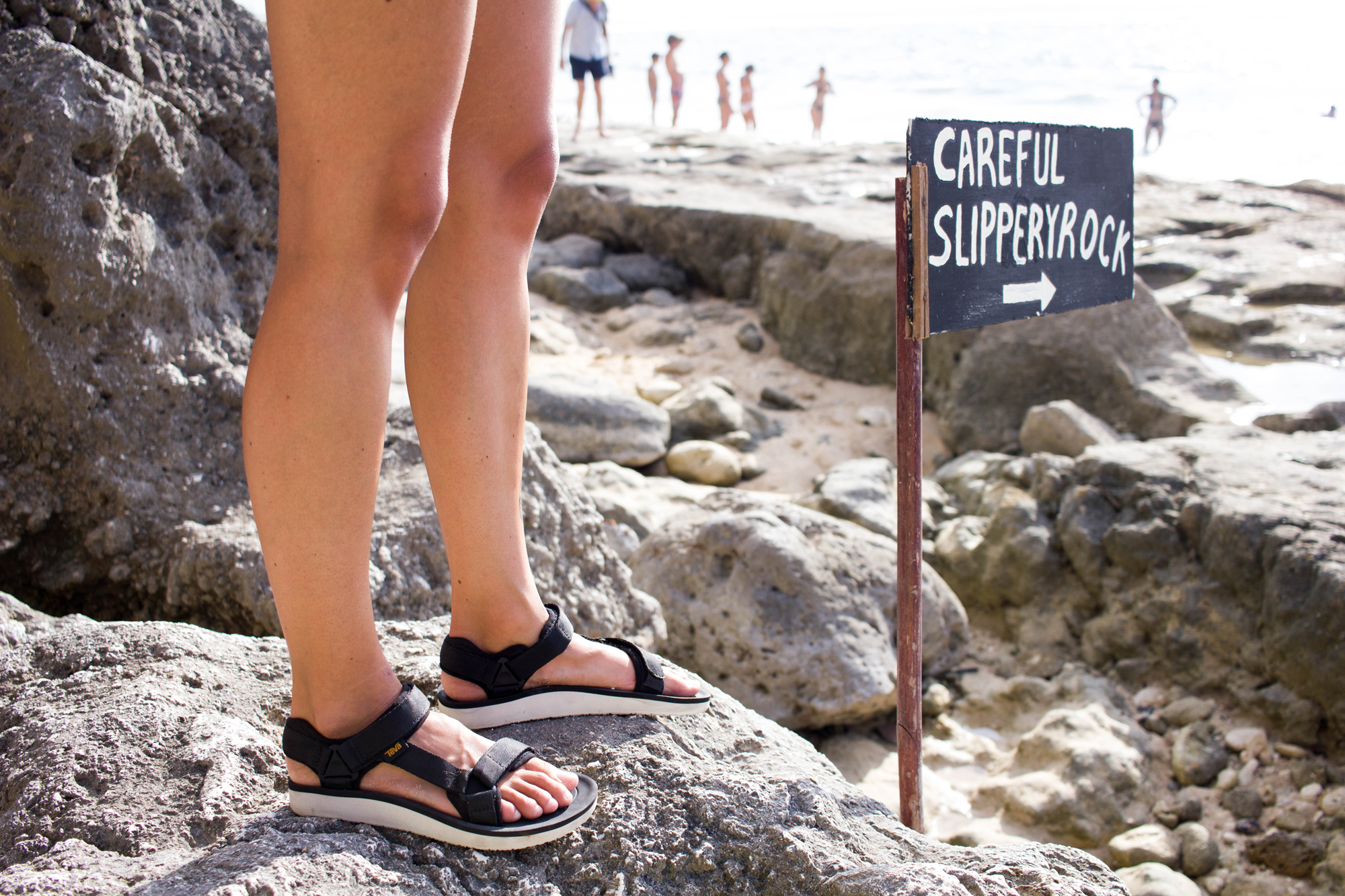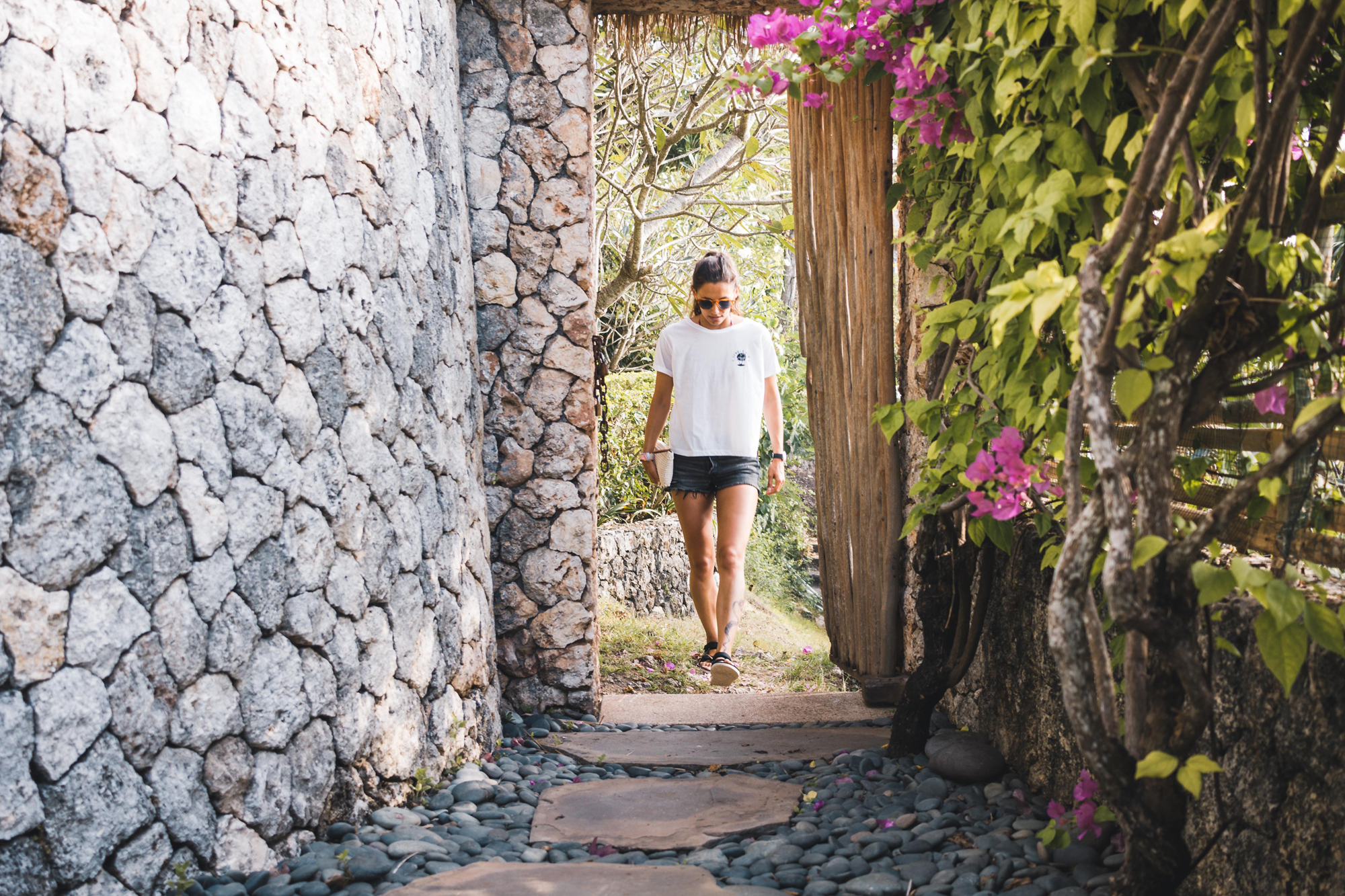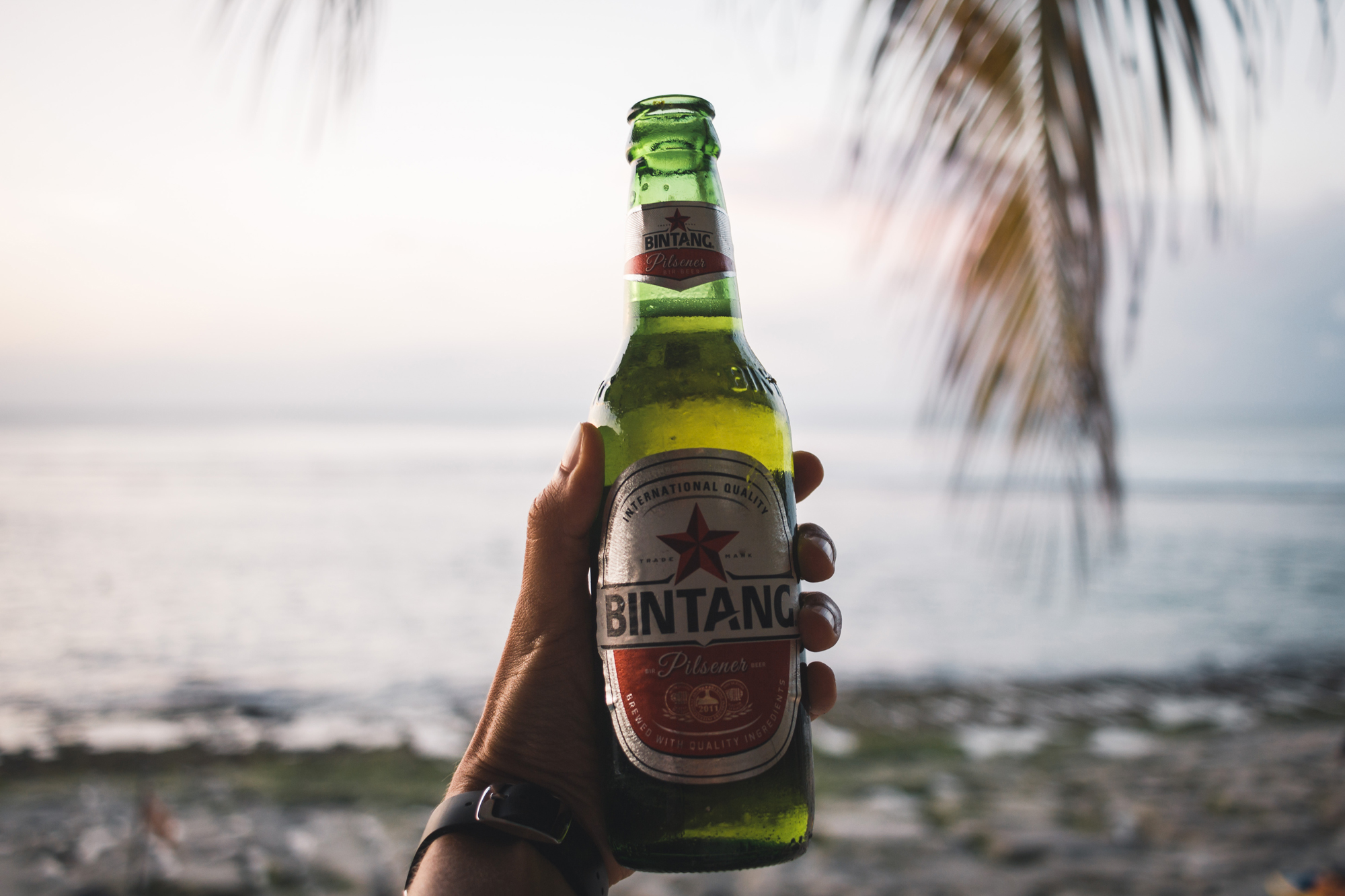 Once the sun is down, around 6:30pm, we get ready for dinner : a quick shower the balinese way, outside and with lukewarm water, some moisturizing creme on my skin and hair, much necessary after a day of salt water and sun, then I swap my bikini for real clothes and ready to go. We usually go by foot to have dinner in one of the restaurants near by, or to eat fresh fish on the beach, or we have a fish barbecue at the hotel. It is very easy to eat well in Bali and we rarely were disappointed by the food, there are a lot of fried food so it a bit greasy, but it taste so good! It is also easy to eat vegan food and there are many "healthy" restaurants.
Surf
Waves in Bali are wonderful, regular and rolling all day long, surf spots on the Bukit are real wave machines! You can find waves for about every level in Bali, but clearly not every spots are good for beginners, the spot where we were in Bingin is a reef break, the wave is deep, fast and with almost no water when the tide is low, rather a wave for experienced surfers. Same thing for the spots of Padang-Padang and Uluwatu which are powerful reef breaks that requires a good level. Depending on the tide it is also possible to surf the little wave on the front when the swell is big, many kids and beginners surf in the reform, with other surfers getting barreled as a background. As for me, I don't have a very good level so I surfed the main wave of Bingin on small days and stayed in the front on big swell days. There are more accessible waves on other spots not so far, like baby Padang or Dreamland and Canggu which are beach breaks, but I didn't get the chance to try those spots since we got to enjoy perfect waves just in front of our hotel for the whole trip.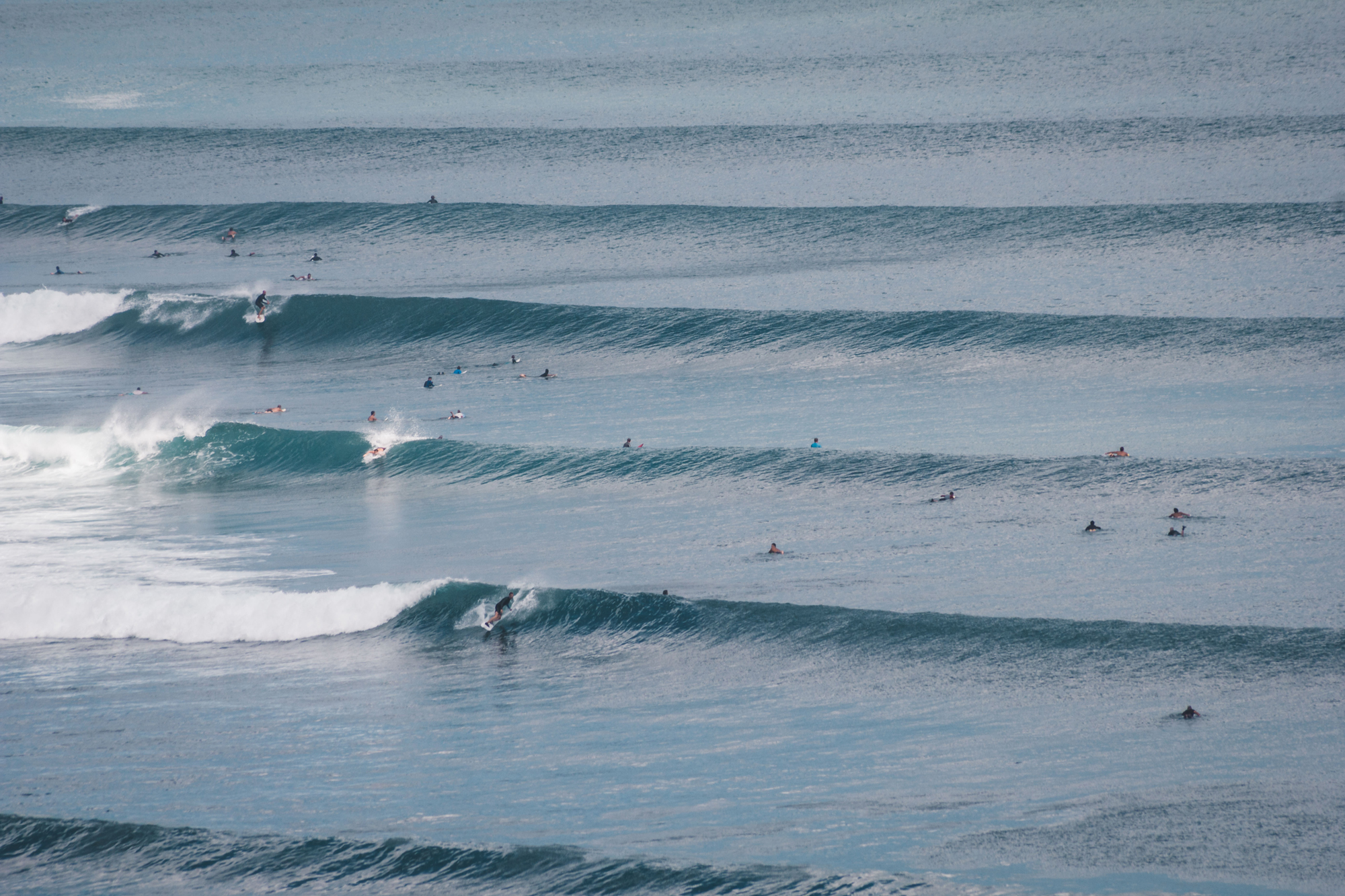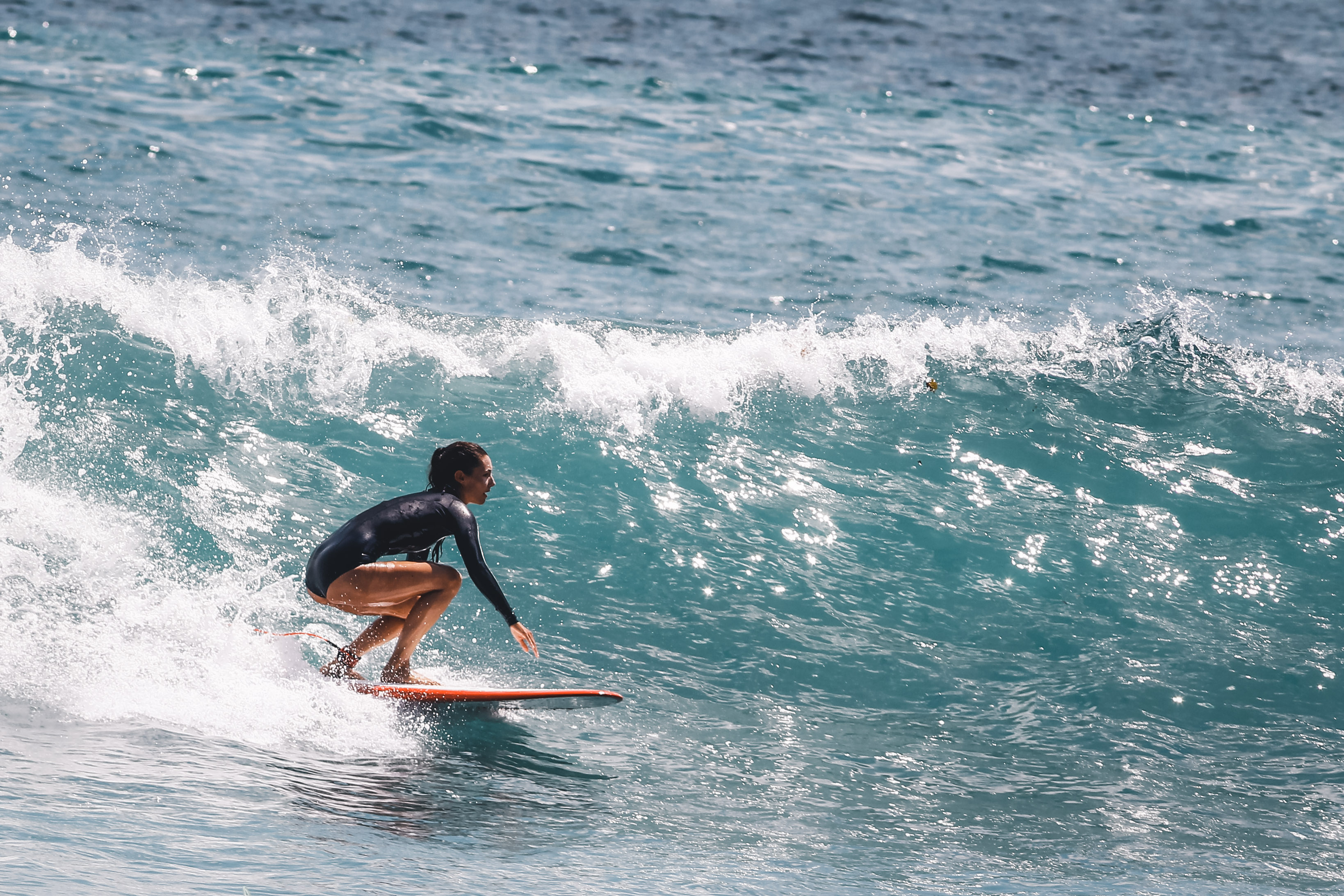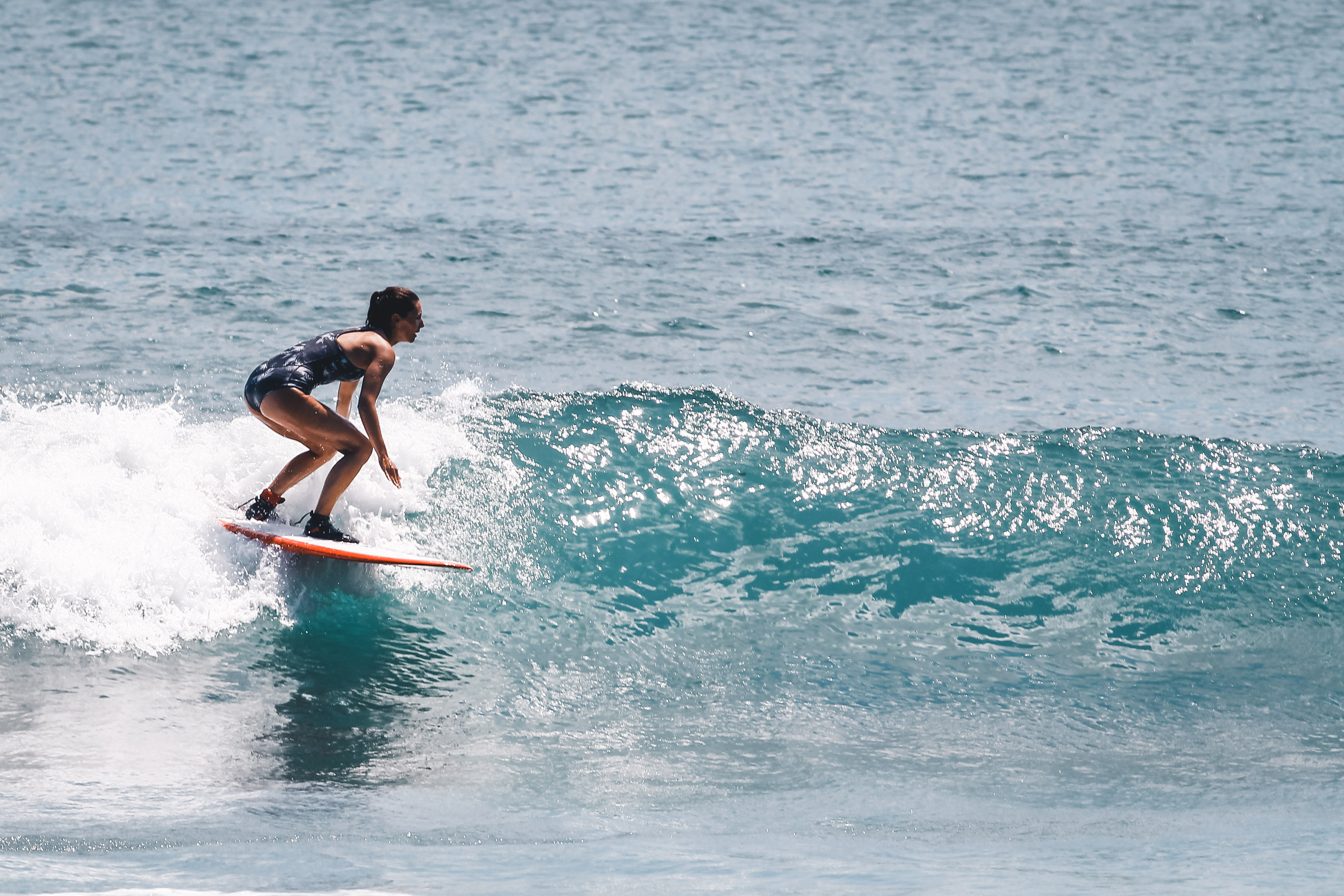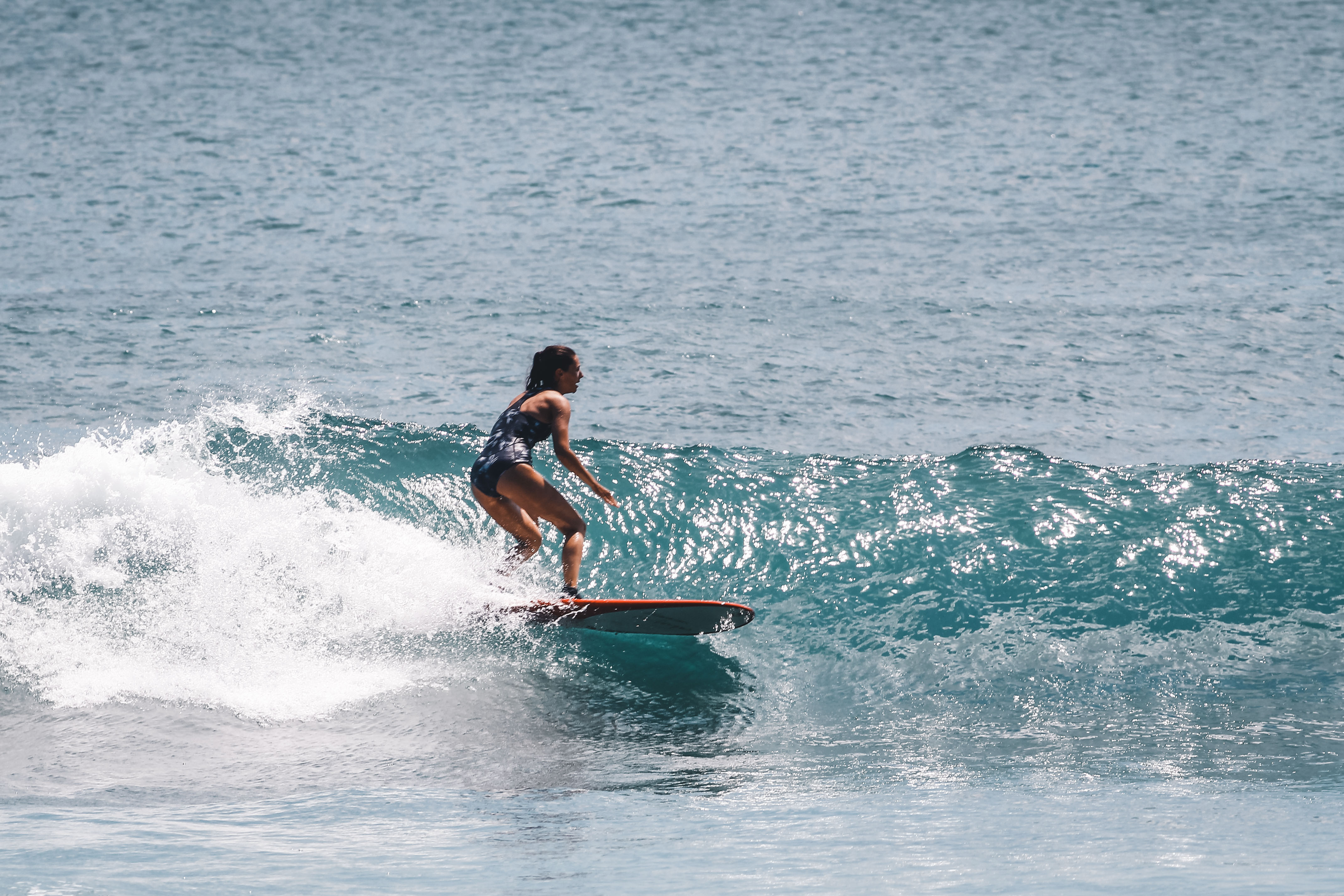 Budget
Accommodation : On the Bukit there are many hotels where you can rent a bungalow very close to the beach, prices vary depending on the level of comfort and the quality of the service, it can go from 15€ a night to about a hundred euros.
Transportation : To move on the island the simplest ways are to rent a scooter or to take a taxi. Scooter renting costs about 5€ a day but you can find cheaper prices if you rent it for a week or more, for taxis the prices are quite low and mostly negotiable (before the fare), to give you an example, a 10min drive from Bingin to Uluwatu costs about 10€ but it is also possible, if you negotiate, to have a driver driving you where you want for an hour at the same price.
Food : Breakfast is usually included in the price of bungalows, for the other meals we ate in restaurants or in warungs (small and modest family restaurants) every day, prices are different from one restaurant to another of course but stay pretty affordable, you can eat a good meal for about 10€.
Additional informations :
Favorite restaurants : The Cashew Tree, Bukit Cafe
To do : Balinese massage (about 12€ for 1h), yoga class, sunset at the Single Fin in Uluwatu.
*
It was a wonderful trip, far from the polluted and crowded Bali people described, that makes me want to explore Indonesia more and travel a lot more!
And you what was your most amazing trip? Any suggestions for the next destination?
Talk soon,
Lolita