A few years ago surfing brands finally created wetsuits for women both colorful and feminine, after years wearing ugly black wetsuits it was a true revolution for surfer women, us girls finally had some choice in the wetsuit range and the line-up quickly became a trendy place. Every brands got into it and we switched pretty quickly from masculine black, whale style, wetsuits to sexy and bright shorties. Today most surfing brands launch at least one wetsuit collection every season and little by little I had to make room in my closet for a wetsuit wardrobe as full as a pro surfer one. The fashion world also got into women surfing and not specialized brands like Zara or Pull and Bear started to sell Neoprene collection.
The boom in women wetsuits allowed the girls to stand out in the water, we can now show our style and feel pretty even in the ocean, in a general way it made women surfing more glamorous (and sexy, but that's another debate) and more visible in the media. However I always found personally that even if all those wetsuits are beautiful and look good in the pictures, they are not always practical to wear in real life to go surfing. Firstly because some shapes are really not designed for surfing and you can easily end up naked, the wetsuit like a string in your butt or with skin irritations, then because paddling to the peak with the latest trendy wetsuit tend to draw eyes on you, not very confortable when you are far from being a pro and just want to surf quietly on the side, and finally because we get bored of all those prints pretty quickly, and renewing your wetsuits every 6 months is not very economical (nor ecological).
But this year something different is slowly emerging, a return to black and sobriety. More and more brands are reinstating black in their collections and making refined wetsuit. As for myself, I started to wear a classical black wetsuit again last summer, because I wanted something simple and discrete to wear in the middle of the crazy August crowd in Biarritz, so it is with pleasure that I am observing the return of black in surfwear. The same way I want to clean my wardrobe and buy less and better (see the post about Surfing and dressing yourself eco-friendly), minimalism can also apply to surfing and I find it very nice to surf in black, without pretension, and to have less wetsuits in my closet. Plus, black is classy don't you think ?
What about you, pro or con black wetsuits? Let me know what you think in the comments, and for those of you who, like me, like black, here is my little selection of black wetsuits and swimsuits to surf with simplicity this summer (all the links are under the picture).
Have a nice summer and good surf !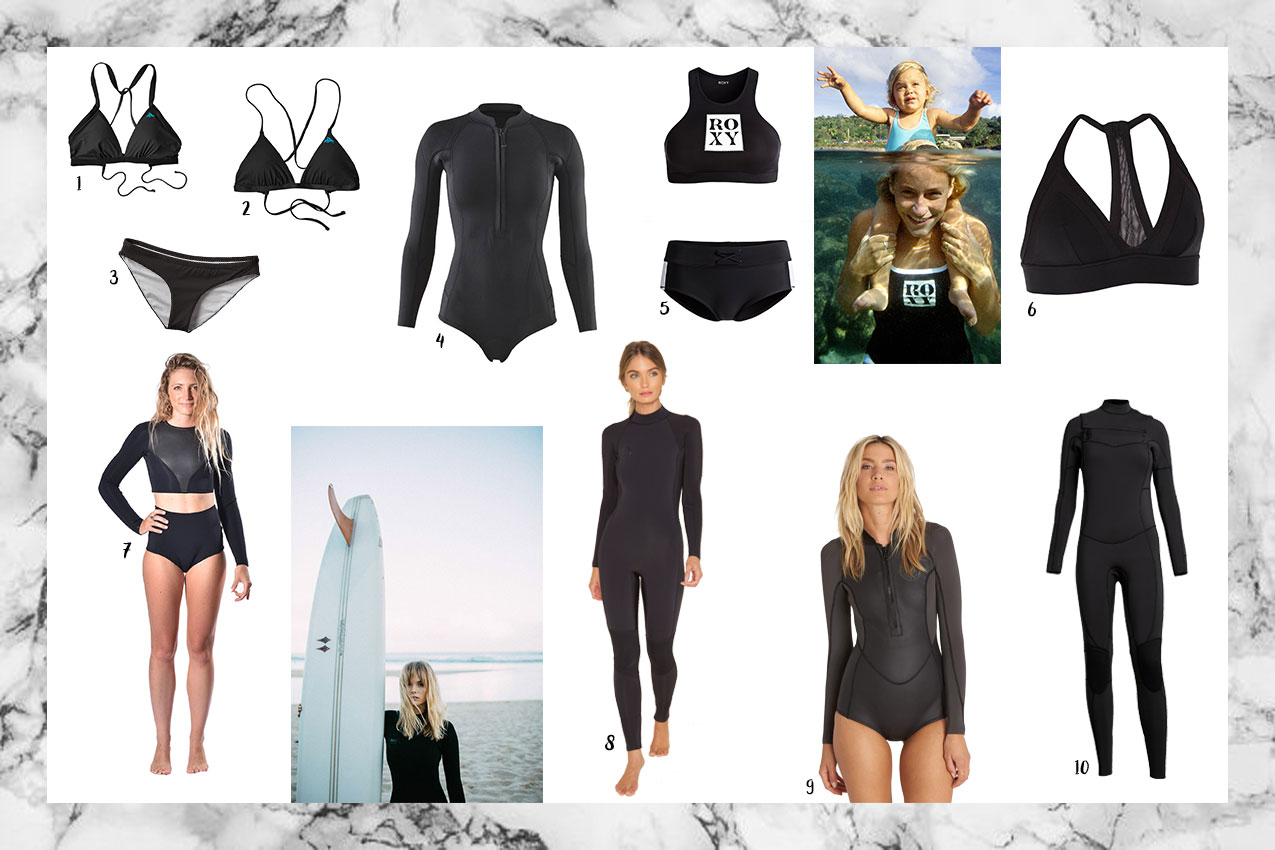 1 – PATAGONIA Women's Solid Nanogrip Surf Bikini Top – 55€
2 – PATAGONIA Women's Solid Nanogrip Triangle Surf Bikini Top – 50€
3 – PATAGONIA Women's Solid Nanogrip Surf Bikini Bottoms – 55€
4 – PATAGONIA Women's R1 Lite Yulex L/S Spring Jane Wetsuit – 170€
5 – ROXY Crop Bikini Top Lisa Andersen – 49€99 & ROXY Mid Waist Bikini Bottoms Lisa Andersen – 45€99
6 – TRIBORD Isa Surf Bikini Top – 17€99
7 – ATMOSEA High Waist Briefs – 89$99(AUS) & ATMOSEA Space Out Crop Vest – 129$99(AUS)
8 – AMUSE SOCIETY Surf Series 3/2 Full Suit Black Sands – 279€
9 – BILLABONG 1/1 Salty Days Front Zip Long Sleeves Spring suit – 115€
10 – BILLABONG 3/2 Salty Days Chest Zip Full suit – 239€
EnregistrerEnregistrer
EnregistrerEnregistrer
EnregistrerEnregistrer
EnregistrerEnregistrerEnregistrerEnregistrer
EnregistrerEnregistrer
EnregistrerEnregistrer