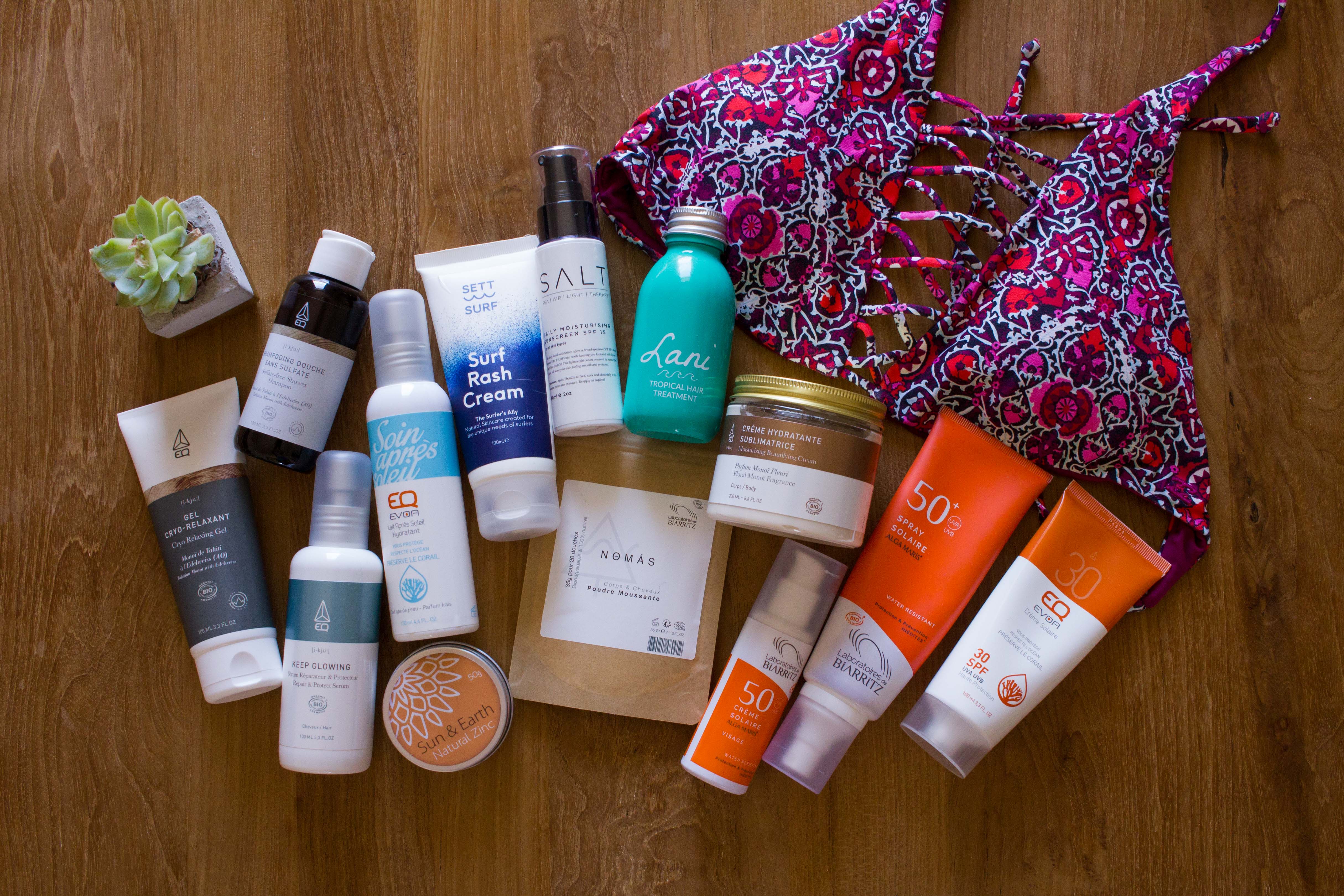 Summer is here! Beach days, surf sessions, stand up paddle, snorkeling, hiking and other activities, it is a pretty active season and we don't always take the time to take care of ourselves. Yet our skin and hair in this season are particularly weakened by the sun, the ocean, sand and sweat and need to be protected and moisturized if you don't want to end up with crocodile skin and straw on your head at the end of the summer. To be quick and efficient before and after the session it all starts with the right products, here are a few cosmetics and care products good for surfers.
Solar protection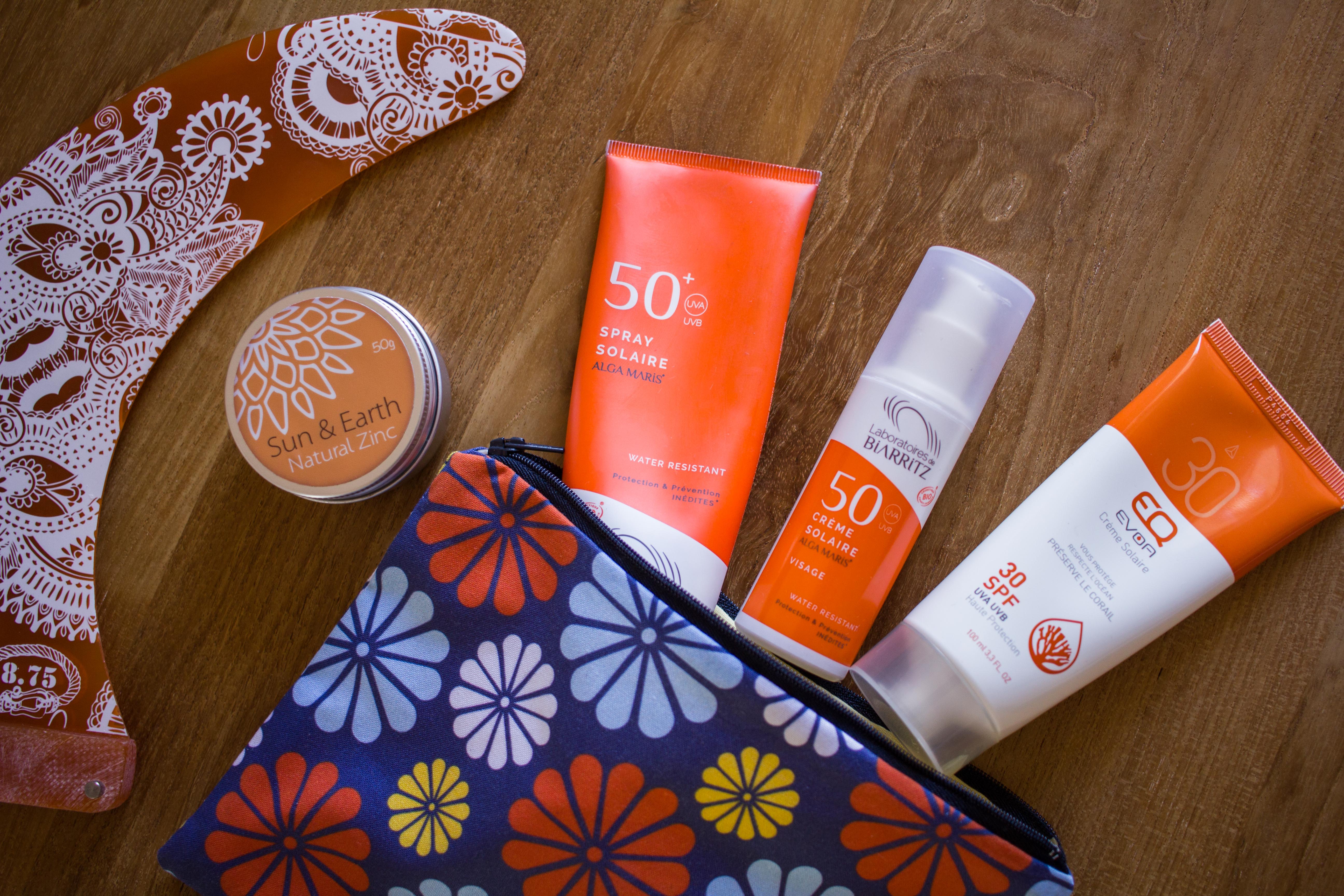 Essential for every surfer, sun care products are the key cosmetics of summer but are not all the same quality. Every year tons of chemicals coming from sun care creams and oils spread into the ocean and kill marine life and corals. Yet we can now find very good products that are not harmful for marine ecosystem and that we, ocean lovers, should choose first.
I've been using the Alga Maris range from the Laboratoires de Biarritz with a SPF 50 to go surfing for two years now and I really like it, even after 3 hours of surfing I still got cream on my skin and no sunburn. Those sunscreens are made with a bask country seaweed whose Alga-gorria active ingredient protect your skin from a premature aging due to the sun, to which they added a mineral sunblock that layers between your skin and the sun to prevent sunburns. However, be careful not to put too much cream or you will get a thin white layer on your skin, in a small amount the cream stretches well and won't leave any white trace.
The brand EQ Love is also a really good brand that offers a full range of sustainable sun care products whose sunblocks are from natural mineral origins, not toxic for corals and for your skin, certified organic and produced in a way to minimize the environmental impact from the production to the packaging. I tried the SPF 30 sunscreen for surfing and running, it resists very well to water and sweating and has a soft texture that makes it easy to use, that's a perfect score for EQ Love!
Other eco-friendly brands like Seventy One Percent, or Acorelle also have organic and non-harmful sun care products, I didn't test them but feel free to tell me what you think if you have!
Finally, for the warmer moment of the day you can add sun stick on your nose and chicks for an optimal protection during your surf session. The Laboratoires de Biarritz and EQ both have very good sticks in white, nude or in bright colors. But my crush this summer is the Sun & Earth zinc, a small brand from Byron Bay in Australia that makes 100% natural tinted sun stick, produced in an ethical and sustainable way. Amongst the ingredients you can find raw cacao powder that gives its tinted aspect to the product, and cacao butter giving the zinc a delicious chocolate smell that will make you want to eat it!
Skincare products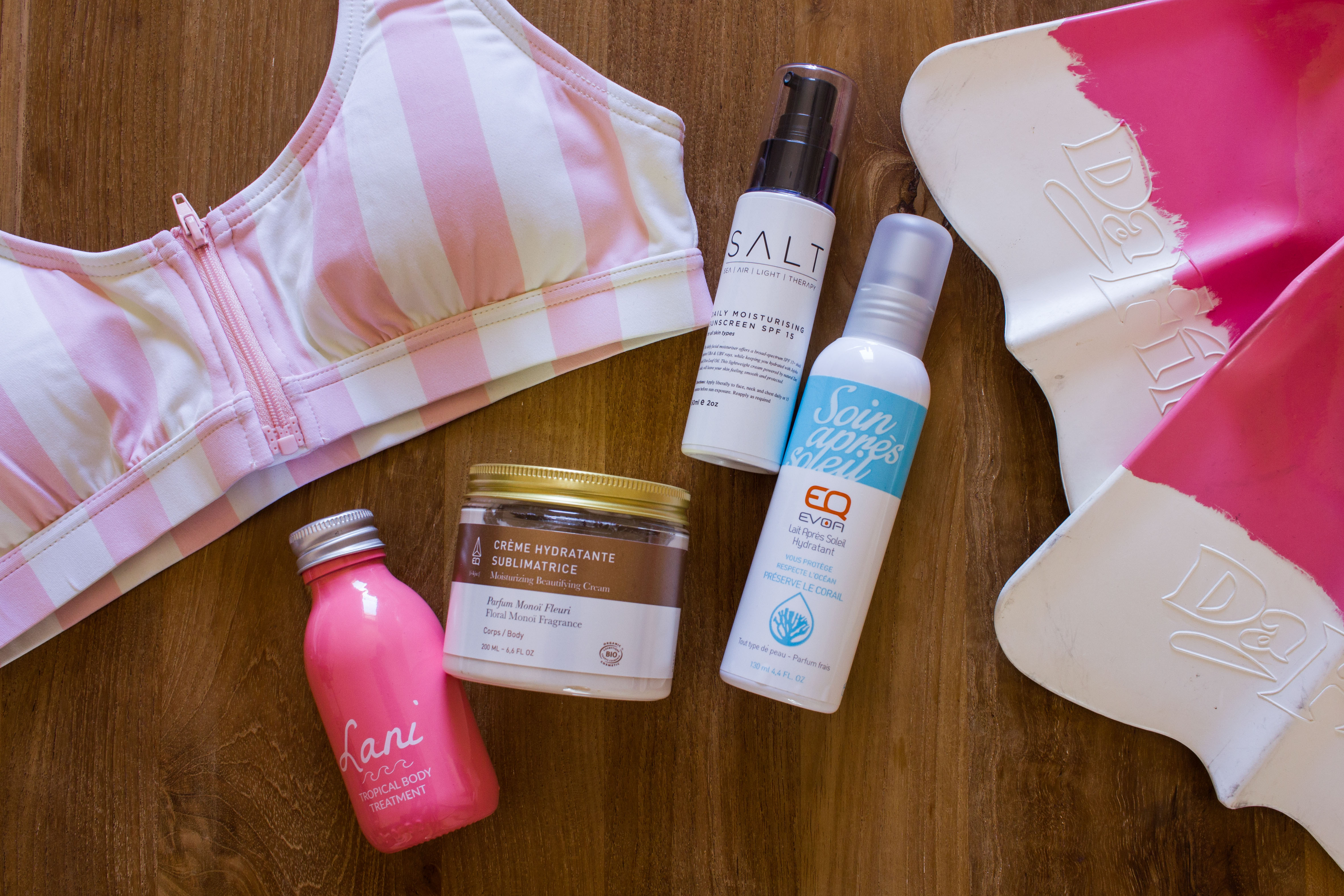 Once you protected your skin from the sun all day long it is time to moisturize it. After your shower apply a moisturizing oil or cream to nourish your skin and enhance your tan, always favor natural and organic products as much as possible, as for me I often use the organic luminous nourishing cream from EQ, slightly perfumed with Monoï, that nourish my skin and makes it a bit satiny. Coconut oil is also very good to help your skin regenerate after the sun with a nice coconut smell but it might make your skin a bit oily so it is better to use it at night before bed. Monoï oil will moisturize your skin as well, but banish it from the beach since it doesn't protect from UV, like most skin oils it will emphasize the impact of the sun on your skin instead, so it is better to keep them as after sun care to enhance your tan.
Creams and oils can also help soothe surfing irritations and rashes, on your belly, thighs, butt, knees, surfing in bikini or small wetsuit can cause irritations on the body areas in contact with your board. If this is not enough or if irritations are recurrent try the Surf Rash Cream from Sett Surf, the only skincare product, in my knowledge, imagined especially for surfer's rashes!
For sunburns or skin areas that heat up a little, use an appropriate and very moisturizing after sun care product or pure (and organic) Aloa Vera gel that will immediately cool down your skin and appease the burning zones while helping your skin to heal. The Tropical Body Treatment from Lani, very rich, is also very good to nourish your skin after and intense sun bath or divers skin agressions, but like every oil based care product it is better to use it at night only to avoid exposing your oily skin under the sun and burn even more!
Finally, use a daily face cream that has a solar protection in it, even low, so the skin of your face will always be protected from summer UV, especially if, like me, you have a sensitive skin that reacts a lot under the sun, with freckles and moles into the bargain. I tried the daily moisturizing from the brand Salt from Australia with a SPF 15 and organic, it is a good product but unfortunately do not resist well to sweat, you can find this type of daily face cream easily in a drugstore from brands like Avene or Caudalie for exemple, do not hesitate to use it every day of the year if you have a very sensitive skin.
Haircare products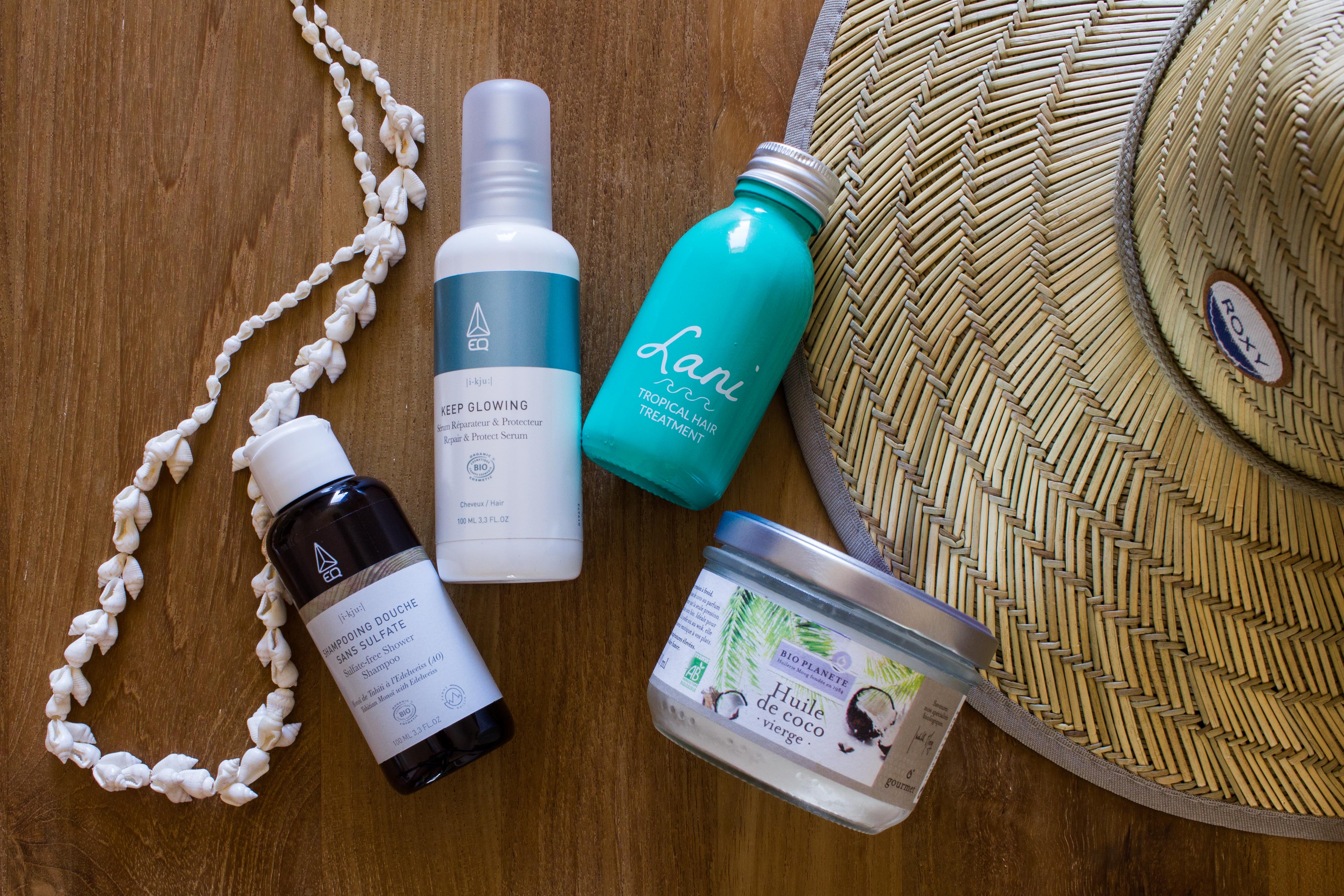 Our hair is often the forgotten part in summer, we easily think about protecting and moisturizing our skin but we don't always take good care of the hair. Yet, like our skin, our hair suffers from the sun, salt water and other summer agressions, not to forget the knots that we quickly detangle when we have the time.
To take care of your hair it all starts with solar protection, you can use the Keep Glowing protecting serum from EQ that will protect your hair from UV, heat, salt but also from chlorine at the swimming pool or the heat of your hairdryer all year long, certified organic and sustainable like all EQ products. Virgin Coconut oil is also a summer must-have, 100% natural you can use it on your hair as well as on your skin or in the kitchen, it contains a natural sunblock so it will protect your hair and nourish it at the same time, in other words it's your hair best friend (only if you dose it out well to avoid greasy hair).
In case you skipped the protecting products or if your hair is looking bad don't panic, it is not not too late! A coconut oil mask (or oil bath) put up all night or a 30 minutes massage on the length of your hair with a good hair treatment like the Tropical Hair Treatment from Lani before your shampoo can do wonders! Insofar as possible try to rince your hair after going in the ocean and use an after sun shampoo that will remove all salt and sand residue unlike a classical shampoo, you can find good ones from Kerastase, Klorane, Nuxe, L'Oreal Professional and many more. In case you go on a road trip or when you have to wash your hair outside in nature, think of ecological shampoo to avoid polluting the ground and the water with chemicals, available in small/travel size bottle from EQ or in foaming powder with Nomas from the Laboratoires de Biarritz.
For those of you who have very long hair like me don't forget to tie it up, or even better, to braid it, when you go surfing or exercising, it will reduce the rubbing and the knots! To unknot use a soft hairbrush in wild boar hairs and detangle the big knots in the shower with your fingers and conditioner to keep your hair from breaking.
And finally a hat! If you plan to spend the whole day at the beach or to go on an outdoor adventure under the sun, don't forget to cover your head with a hat or a cap, in natural fiber and not synthetical preferably so your scalp won't boil, it will protect your hair (and your eyes from the sun and prevent your from having a sunstroke.
Cosmetics for flat days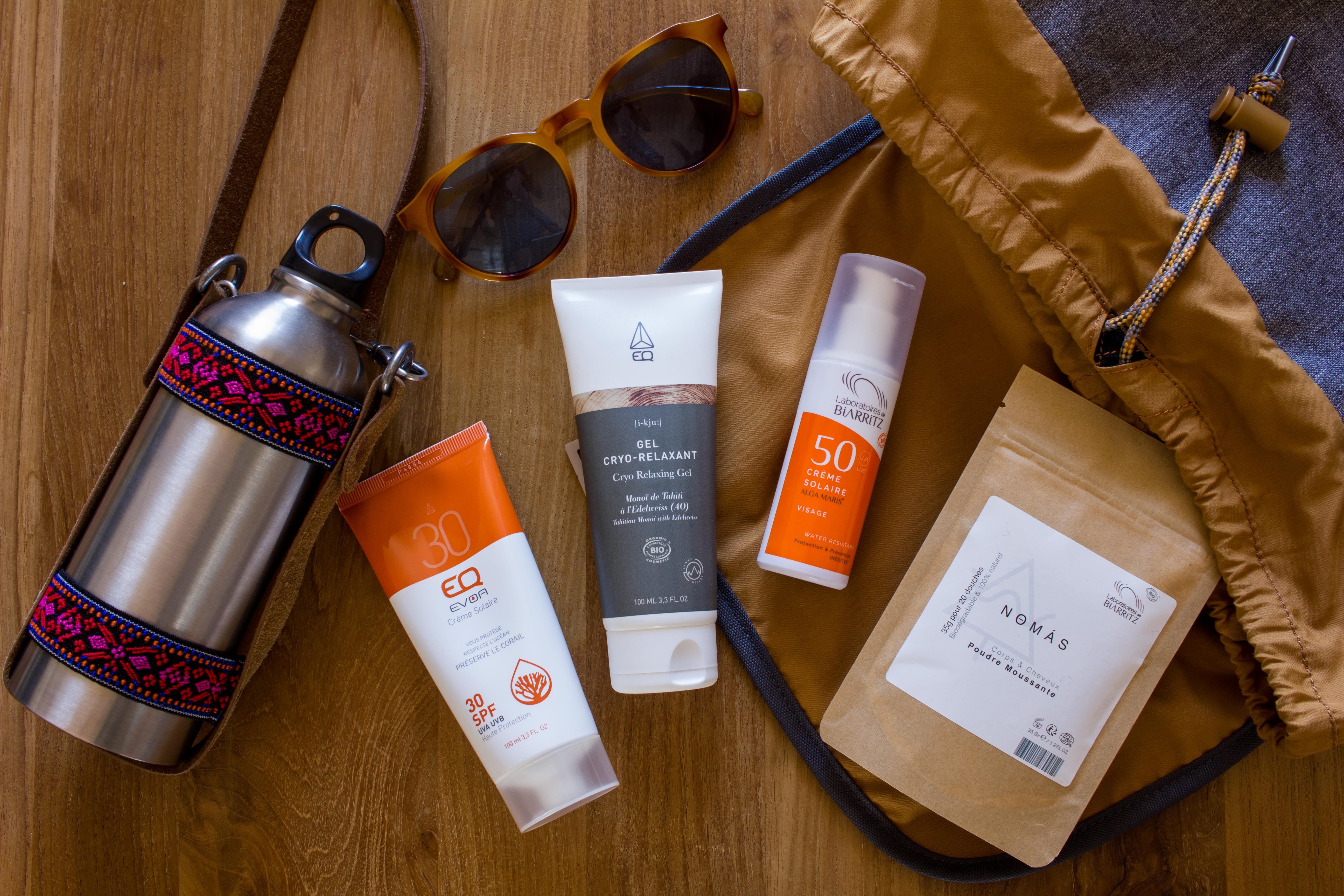 When the ocean is flat and you get bored of doing nothing on the beach there are always many other outdoor activities you can do to have fun, feel free to read or read again my post about What to do when there are no waves. Whether you choose to go hiking, paddling, swimming, on a boat trip or working out outside, never forget to protect yourself from the sun! Sunscreen is always an essential but also don't forget to drink and stay hydrated (with a reusable bottle, no plastic girls, keep up the good work!) or to keep your head covered.
For those of you really sporty, try to spare your muscles at the warmest hours of the day, then you can go for an ocean bath after your training or practice some relaxing massage after the physical effort with a cold gel, I tried the Cryo Relaxing gel from EQ (place it in the refrigerator for a better effect) and it is amazing, after a long run or a big hike the refreshing feeling is really nice and last at least 20min! It also exists in Warm-up Toning gel, to try this winter or for a very early exercising.
For the most adventurous of you who love to go explore the wilderness and have to stick to the very minimum, try powder or dry cosmetics, they are often way lighter and less bulky.
Finally, the little summer must-have that we often forgot and that can ruin your camping night or post session drink on the beach, mosquito repellent products! So many times, after a sunset surf, I've been attacked by dozens of mosquitos when changing, even hiding under my poncho, there is no way out! I'm currently testing plant-based repellents from Para'Kito, including a mosquito repellent bracelet that contains a repulsive tablet made of essential oils, it protects you all day long and during any activities, even in the water, how cool is that! For tropical or very infested destinations you can add a spray or a roll-on gel to apply on sensitive areas (ankles, wrists, neck) that will reinforce the protection, and it is effective also again tiger mosquitos.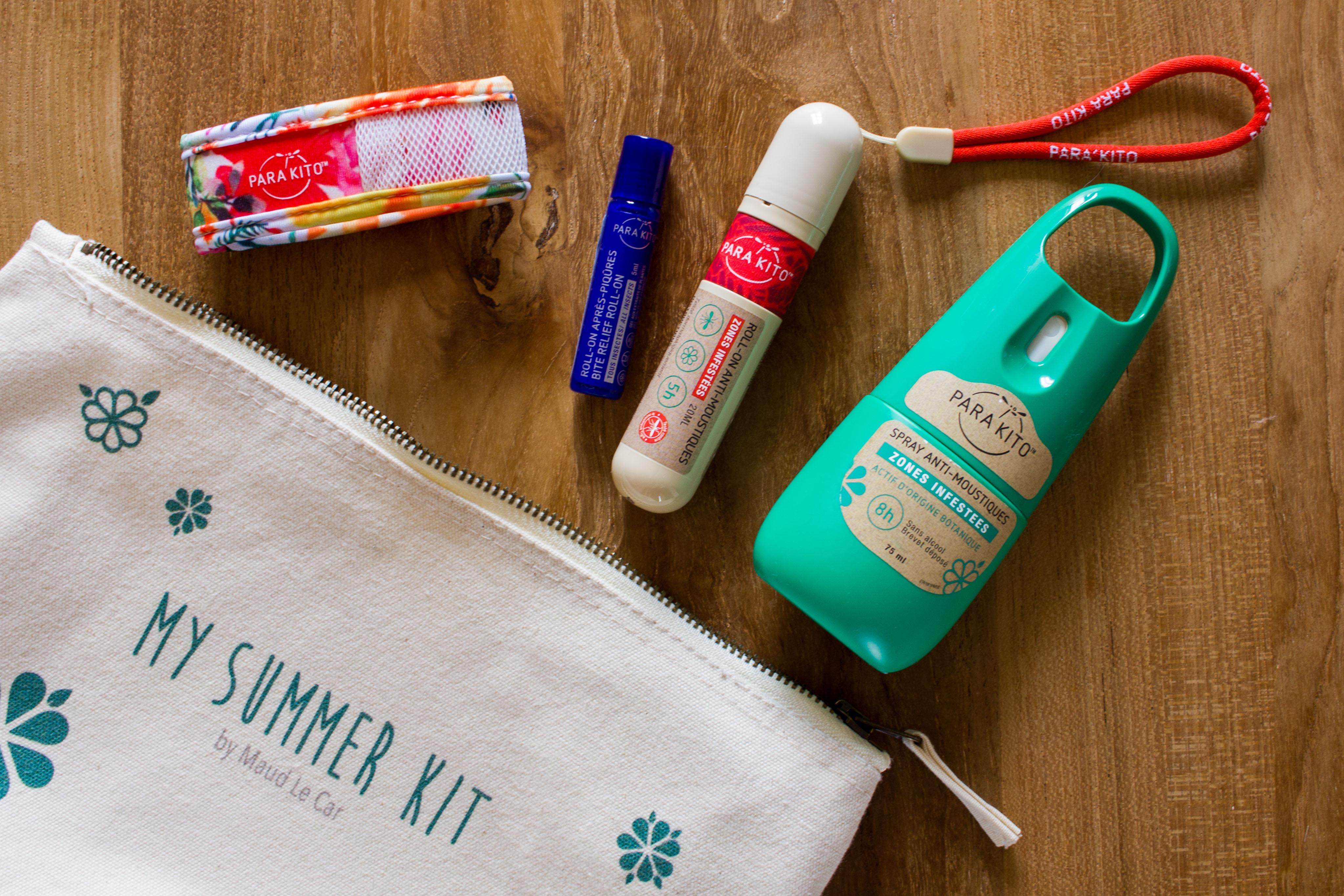 I'm putting everything in my suitcase for Bali to (hopefully) enjoy my trip without any mosquito bites, sunburns or dry skin/hair! I'll post you a lot of pictures and a recap of my trip when I get back of course!
EnregistrerEnregistrer
EnregistrerEnregistrer
EnregistrerEnregistrer
EnregistrerEnregistrerEnregistrerEnregistrer
EnregistrerEnregistrer
EnregistrerEnregistrer
EnregistrerEnregistrer
EnregistrerEnregistrer